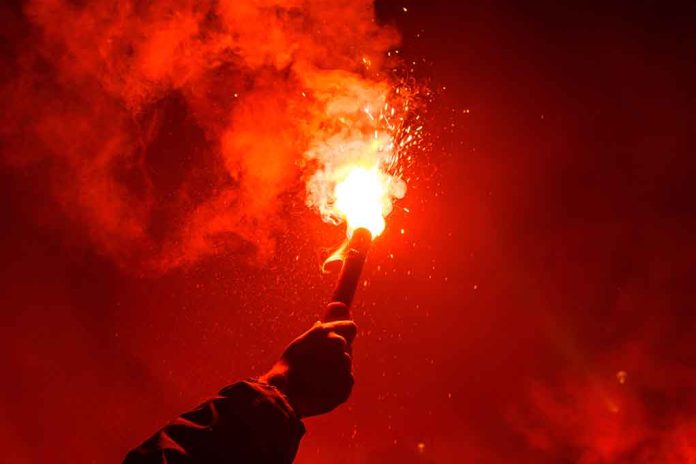 GOP Lawmaker's Office Attacked – Details Pouring In!
(LibertySons.org) – On June 13, two arsonists attempted to burn down Representative Andrew Barkis' (R-WA) office. While the building didn't catch fire, the incident is still concerning given the location is also home to the Republican election headquarters. The situation also rings alarm bells because it's just one more act of violence against a pro-life advocate since the leak of the US Supreme Court's abortion rights draft decision.
Last night 2 individuals broke a window and threw a lit flare into the office of my seatmate, Rep. Andrew Barkis. We have no information about perps or motivation, but I'm very concerned. Thank goodness the flare landed on a masonry floor. pic.twitter.com/vRr829tCPC

— Rep. JT Wilcox (@jtwilcox111) June 13, 2022
Barkis is vocal about his pro-life stance, but authorities have not yet made any connections between his ideals and the attack on his office. Still, the Department of Homeland Security (DHS) issued a warning on June 7 about the potential for increased violence tied to the Supreme Court's upcoming decision. The DHS said it expects a heightened threat due to people exploiting "high-profile events" to "justify acts of violence." The statement noted ideological opponents could be a target.
A camera caught two masked individuals breaking Barkis' office window and tossing in a lit flare at around 4 a.m. Nobody claimed responsibility for the act, but police reports connect the culprits to a group that broke into Lighthouse Antiques and stole $5,000 in goods, prompting suspicions that the arsonists' intention was to distract from the robbery.
~Here's to Our Liberty!
Copyright 2022, LibertySons.org