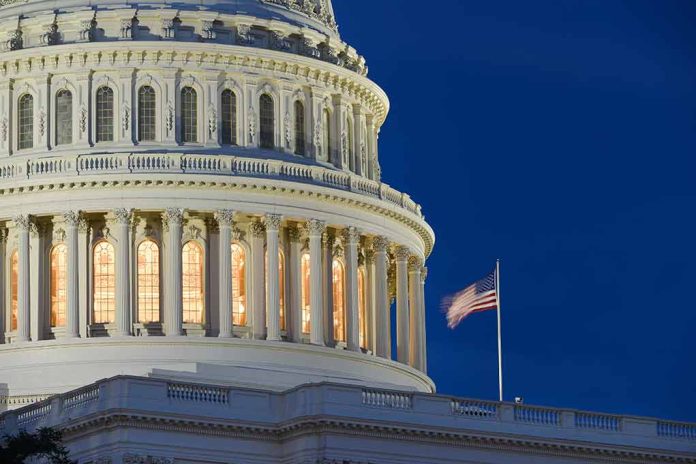 (LibertySons.org) – Several GOP lawmakers went against their party, voting "no" on advancing an appropriations bill for the Pentagon, marking the second time in a week that Republicans have held up the process. Congresswoman Jen Kiggans (R-VA) is furious with her colleagues. She called their conduct "unacceptable and offensive."
The first monkey wrench in the works came on Tuesday, September 19, when five Republicans voted alongside the unanimous Democrats. The majority vote against the rule effectively halted any debates or votes on the funding bill. The original Republican holdouts were Representatives Andy Biggs (AZ), Dan Bishop (NC), Ken Buck (CO), Ralph Norman (SC), and Matt Rosendale (MT). They demanded the GOP make cuts across the 12 appropriations bills, threatening to continue holding up the vote until they saw the changes they wanted.
McCarthy went back to the negotiating table, and some of his peers showed interest in moving forward, but another vote on Thursday, September 21 was just as fruitless. This time, the Republican defectors included Reps. Biggs, Bishop, Rosendale, Eli Crane (AZ), and Marjorie Taylor Greene (GA). The final vote was 216 to 212 against the rule. The House Speaker spent the rest of the day trying to appeal to the GOP behind holdouts, but ultimately lawmakers, after a week of attempting to find common ground and getting nowhere, decided to pack it in for the weekend.
Rep. Green's Thursday vote occurred hours after former President Donald Trump reportedly went on Truth Social to rally far-right lawmakers. He pushed members against moving forward without making cuts to the agencies he claims have been weaponized against him. Green is also against any stop-gap funding and wants to see an immediate end to US tax dollars going to Ukraine.
Kiggans took to social media as well, criticizing members of the Right who refused to allow the legislation to move forward. She wrote on X, formerly known as Twitter, "Enough is enough," demanding that, for the security of the nation, lawmakers find a way to pass the Pentagon appropriations bill without any additional delays.
~Here's to Our Liberty!
Copyright 2023, LibertySons.org