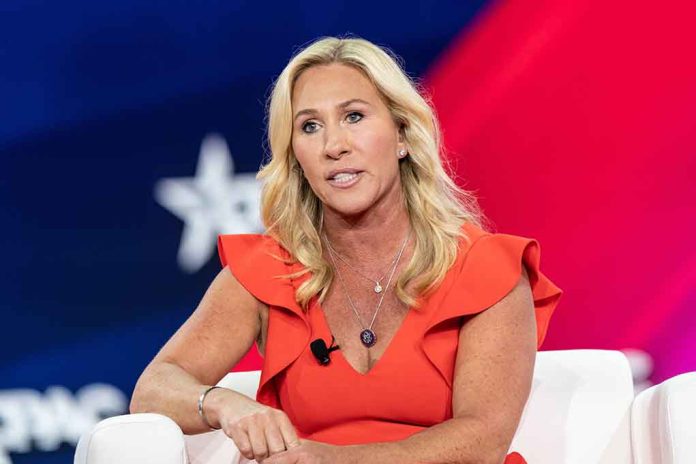 Marjorie T. Greene Announces Plan to Impeach Biden
(LibertySons.org) – With the midterm elections over, the focus of political leaders now turns to what happens when the newly elected members take their places in Congress. The GOP is focusing on what may be next for President Joe Biden. Representative Marjorie Taylor Greene (R-GA) won her bid for re-election on November 8, and she's ready to start talking about impeachment.
Greene's Desire to Impeach Biden
The Georgia lawmaker has made no secret about wanting to impeach the current president. In fact, she already introduced articles against Biden. The representative has accused him of crimes associated with the chaotic withdrawal of troops from Afghanistan, failure to ensure the safety of all Americans and allies left behind, and abandonment of weapons and equipment funded by US taxpayers.
Despite that bid going nowhere due to Democratic control of the Lower Chamber, Greene is still committed to seeing it through. On November 7, she posted on social media how she voted no for Trump's impeachment on January 12, 2021, stating there was no evidence against him. But she informed readers there was proof against Biden, and impeaching him would be simple.
On November 7, at an Ohio rally before the midterms, Greene again spoke about her plans to hold Biden accountable. She assured the crowd the House would impeach the president.
The GOP's Stance
Republicans have been transparent about the possibility of impeachment if they gain a majority in the House. They have already started working toward probes of matters they feel could provide evidence to hold Biden accountable. Representative James Comer (R-KY) told ABC News the GOP wants to look into all that has happened under the president's leadership.
Potential areas Republicans might investigate could start with Hunter Biden allegedly using his father's political connections and status to advance business deals. Lawmakers could also address issues with the Afghanistan withdrawal, as Greene already mentioned. There are some concerns over the assumed politization of the Justice Department, and the crisis at the border will probably receive a review, as well.
Impeachments could extend into the administration too. When speaking at the Ohio rally, Greene mentioned Homeland Security Secretary Alejandro Mayorkas and Attorney General Merrick Garland.
With an agenda packed full of issues to put under a microscope, seeing a Republican-led House bring impeachment charges against Biden or top leaders within his administration would not be a surprise. Since Representative Greene has her seat locked down, she isn't likely to let the issue slide once the new Congress convenes in January.
~Here's to Our Liberty!
Copyright 2022, LibertySons.org