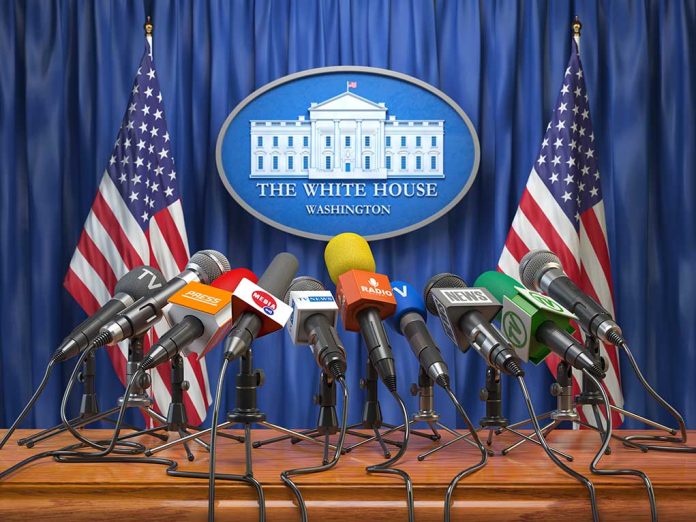 White House Responds After GOP Announces Biden Investigation
(LibertySons.org) – With the announcement that the GOP won the US House of Representatives in the midterm election, Republicans have begun planning what they will do with their new power. Representative James Comer (R-KY) and Representative Jim Jordan (R-OH) held a press conference on November 17 to declare their intention to further investigate the Biden family for potential corruption. But the White House is fighting back.
#WhiteHouse: House GOP #JoeBiden #family #investigation full of 'long-debunked conspiracy theories'https://t.co/jDDwsfLFHM

— Tulip Penney (@TulipPenney) November 17, 2022
Ian Sams, the White House Counsel's office spokesman, told the New York Post that House Republicans are focusing on attacking the president instead of handling real issues. He stated the accusations of the representatives have been proven false and labeled them "conspiracy theories." He called the probe a waste of "time and resources on political revenge."
Comer, who will lead the House Committee on Oversight and Reform next session, released a report called "A President Compromised: The Biden Family Investigation." Comer said the preliminary findings contain evidence that President Joe Biden did have knowledge of his son's business and lied when he said he didn't. He said if the US leader was compromised, that could be a "threat to national security."
During the press conference, Comer and Jordan, who will lead the House Judiciary and Oversight committees next year, noted the investigation of the Bidens will be a top concern when the GOP takes over the Lower Chamber. The Ohio legislator stated there are "so many questions that need answers."
~Here's to Our Liberty!
Copyright 2022, LibertySons.org