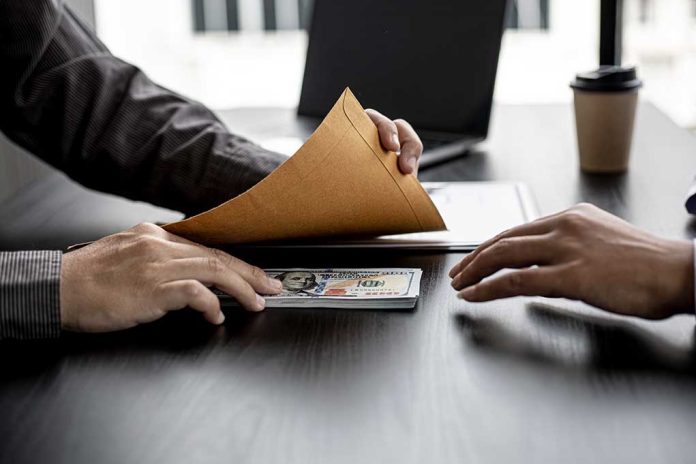 (LibertySons.org) – House Oversight Chairman Rep. James Comer (R-KY) expanded the investigation into Hunter Biden to determine whether or to what degree the Biden family participated in influence peddling while Joe Biden served as vice president under former President Barack Obama. Comer released a 36-page memo on Wednesday, May 10, containing banking transaction records in pursuit of that goal. Comer claimed multiple family members' complex and often convoluted finances might represent evidence of influence peddling.
In a May 10 press release, the Oversight Committee chair contends the thousands of bank documents represent a complex web of companies that the Biden family set up during Joe Biden's vice presidency to hide evidence of influence peddling and payments from foreign sources, including the Chinese Communist Party (CCP) and Romanian oligarch Gabriel Popoviciu.
.@GOPoversight's @JamesComer released new financial records from his investigation into "the Biden family's influence peddling and business schemes" by highlighting bank records related to Hunter Biden-linked business deals in Romania and China.https://t.co/hP96639MKU

— Washington Examiner (@dcexaminer) May 10, 2023
During a televised presser on May 10, Comer alleged that while Biden served as vice president and lectured Romania on the harmful effects of corruption in government, he was actually "a walking billboard" for son Hunter Biden and Joe Biden's extended family to collect money from through a lucrative financial relationship with Popoviciu. Romania was investigating the oligarch at that time and later convicted him of corruption.
Comer provided a second example of how the Biden family allegedly profited from Biden's influence in the vice president's office. The Oversight chairman claimed CCP operatives, including Ye Jianming and his company, CEFC, provided millions of dollars of payments and gifts to Biden family members through shell companies, including one owned by Biden family friend Rob Walker.
Critics pointed out that Comer was still publicly unable to provide solid evidence linking President Biden to wrongdoing. When questioned about supplying hard evidence, Comer replied, "I don't think […] it's a coincidence that nine Biden family members have received money for this influence-peddling scheme." He added, "We believe that the president has been involved in this from the very beginning."
~Here's to Our Liberty!
Copyright 2023, LibertySons.org