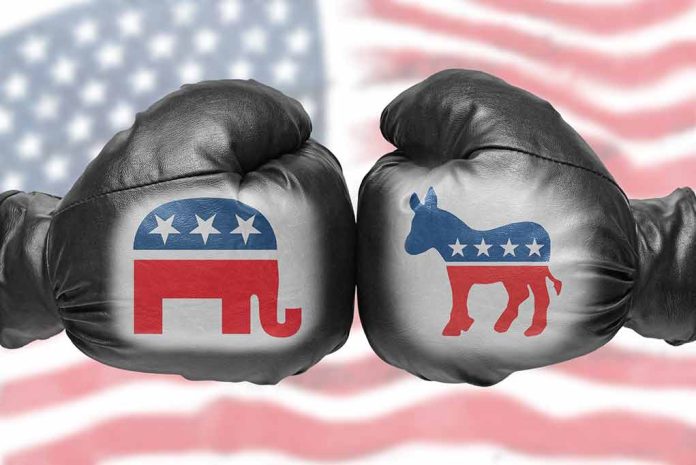 (LibertySons.org) – Republican gubernatorial challenger and current Kentucky Attorney General Daniel Cameron is waging a pitched battle against incumbent Governor Andy Beshear (D). Cameron is touting his 12-point public safety plan and criticizing Beshear for unleashing "havoc" on law enforcement officers (LEOs) based on his decisions during the 2-year national health crisis. As a result, the challenger shifted a key group's support to the GOP.
Although the Kentucky State Fraternal Order of Police (FOP) endorsed Beshear in 2019 during his previous run for governor, this time, the organization is throwing its support behind Cameron. The attorney general cites Beshear's decision to release more than 1700 criminals from jail in 2020 during the health crisis when infection rates soared. Yet, Cameron argued he "unleashed havoc on our communities" and LEOs because at least a third of those released reoffended.
Some of the points included in Cameron's 12-point public safety plan include,
Increasing recruiting and retention of LEOs
Passing a death penalty bill for cop killers
Blocking civilian review boards from holding subpoena power
Adding a Kentucky State Police post in Louisville
Passing a statewide wiretapping law for Kentucky State Police
Increasing penalties for drug traffickers who kill Kentuckians
Another point on which Cameron has called out his opponent is the fentanyl crisis. He claims Beshear has failed to push back against the Biden administration and its border policies, allowing a steady stream of opioids to flow into the state, harming Kentuckians.
When asked for comment, Beshear's campaign struck back at Cameron. It pointed out that violent crime rates in the commonwealth of Kentucky were significantly down under Beshear, referring to a 2022 crime statistics report released in July that showed a year-to-year drop in the murder rate of 17.9% while drug offenses fell by 13% and robberies fell by 16%.
Additionally, the governor delivered pay raises for LEOs, resulting in an increase in recruiting for the Kentucky State Police. The campaign cited more than 35 sheriffs and police chiefs who have endorsed Beshear.
Recent polls show the race is tight, but Beshear has shown a marginal lead over his challenger: 8 points in a recent Beshear-backed Public Policy Polling survey and 4 points in a Republican State Leadership Committee-backed Public Opinion Strategies poll.
~Here's to Our Liberty!
Copyright 2023, LibertySons.org