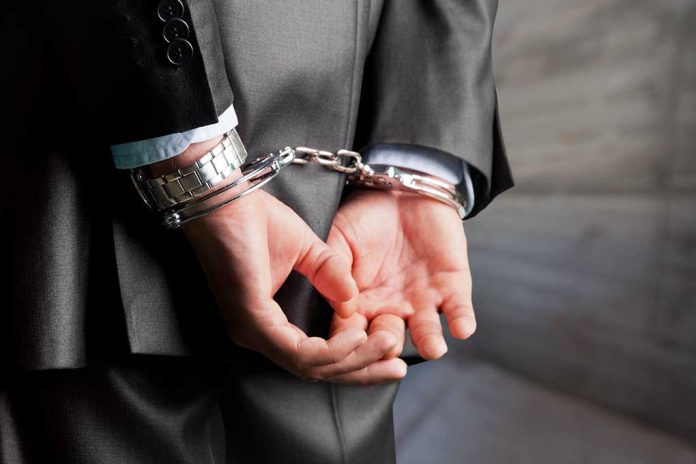 (LibertySons.org) – Following a standoff with a SWAT team, a failed state Representative candidate, Solomon Pena, was taken away in handcuffs. Authorities believe he may be the mastermind behind several shootings in New Mexico. Given the details of the case, it appears the would-be legislator's motives could have been politically motivated. When he lost his race in November, he allegedly called open season on several Democrats in his home state.
Failed Candidacy
Pena, 39, ran for a position in the state legislature in New Mexico during the midterm elections in November 2022. When he lost, the Republican cried foul, claiming the voting was rigged. The fact was, incumbent state Representative Miguel Garcia (D) ended up beating his GOP contender by around 3,600 votes, which equaled about 48% of the total ballots cast. Soured by the results, Pena allegedly went to various officials' homes who had won their elections and presented them with documentation that he believed showed he actually beat Garcia. Not long after that, the shootings began.
The Aftermath
The Daily Mail reported the first attack took place on December 4, when someone fired eight rounds at the home of Bernalillo County Commissioner Adriann Barboa — a Democrat. Only days later, another shooting took place at the home of State Representative Javier Martinez (D), the speaker of the House in New Mexico.
A week after the first shooting occurred, another attack happened at the home of a second Bernalillo County Commissioner, Debbie O'Malley. The assailant fired more than a dozen rounds in that incident, according to police.
On January 3, the final shooting took place. The suspect targeted the home of State Senator Linda Lopez (D) this time, once again firing more than a dozen times. Three of the rounds flew through the bedroom of the politician's 10-year-old daughter. Thankfully, none of the incidents resulted in any injuries.
The Mastermind
After authorities arrested Pena in Albuquerque, Kyle Hartsock, Deputy Commander of the Albuquerque Police, mentioned that at least four men were involved in the attacks. However, the Deputy Commander believes Pena was the one behind it all. Police also think the failed candidate took shots in at least one of the attacks.
Authorities pinned Pena as a suspect in the case after reviewing and examining the bullet casings they'd collected at each scene. They also used phone and vehicle records and conducted witness interviews. Police claim the failed candidate communicated with the suspects via texts and provided each of them with the addresses of the lawmakers.
At this time, sources have been unclear as to whether the hired guns knew their targets were politicians. The New Mexico GOP condemned alleged Pena's actions, declaring if the Republican is found guilty, he should face punishment. Prosecutors charged Pena with shooting at an occupied residence, conspiracy to commit a felony, and shooting from a vehicle.
~Here's to Our Liberty!
Copyright 2023, LibertySons.org