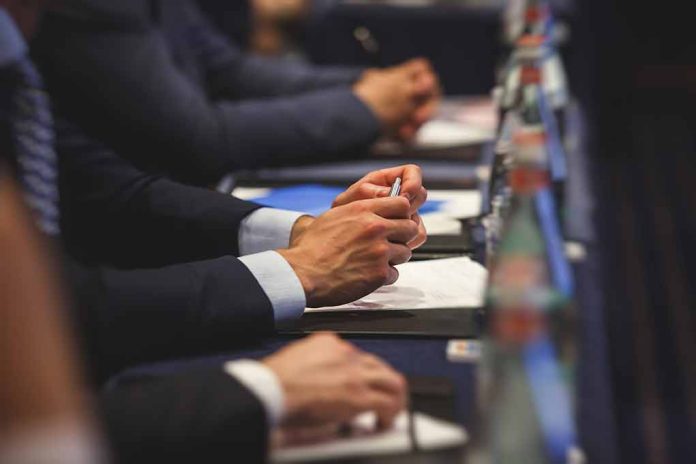 (LibertySons.org) – On September 16, President Joe Biden received a letter from 25 of the 26 Republican Governors currently serving. They expressed solidarity in their situations, calling "every state […] a border state" due to the strain on resources that illegal immigration has put on them. The top state officials are insisting the White House provide more accurate and timely immigrant status data.
Montana Gov. Greg Gianforte (R) drove the effort, emphasizing the fact that "States are on the front lines" of dealing with the influx of migrants due to policies adopted by the Biden administration. He and other governors pointed out that both GOP and Democratic states are dealing with overflowing shelters, empty food pantries, exhausted aid workers, and overworked law enforcement officers due to the border crisis.
The letter specifically cited Democratic Gov. Maura Healey of Massachusetts, who declared a state of emergency after her state overran its shelter capacity as migrants continued arriving in the Sanctuary state. New York Mayor Eric Adams (D) also received mention for asserting that the migrant problem wasn't unique to New York City but had become "a national problem" that was pulling funding away from other infrastructure like schools, streets, and children's services because the federal government hasn't materially contributed toward the cost of caring for the influx of migrants.
Gianforte's letter, sent under the auspices of the Republican Governors' Association, went on to discuss costs. "Analysts estimate the annual net cost […] is at least $150.7 billion." The letter's authors argued that states cover the medical, educational, and financial support costs associated with migrants entering the US, made worse by "skyrocketing" inflation and the sheer number of immigrants entering the US under Biden policies.
Additionally, the letter enumerated the human costs associated with increased human and drug trafficking, a rise in drug-cartel-related crimes, increased opiate and synthetic opiate addictions and deaths, and the potential for increased terrorist activity because record numbers of border encounters have stretched Customs and Border Patrol (CBP) agents so thin. Governors argued the impacts on citizens have become staggering.
The governors are demanding the Biden administration provide them with timely data detailing who has crossed the Southern border illegally, whether CBP agents returned them to Mexico to await dispositions in their cases, where CBP relocated them if the government admitted them into the US, how the federal government processed associated asylum applications, and whether CBP has successfully deported them if an immigration court ruled against them.
~Here's to Our Liberty!
Copyright 2023, LibertySons.org