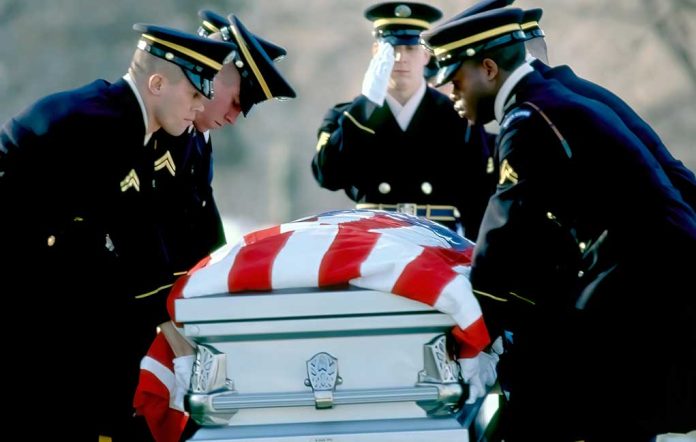 (LibertySons.org) – The loss of 13 service members in Afghanistan may be the most horrific incident of Joe Biden's presidency. Many people blame him for the deaths, which became a point of contention as he met with families at Dover Air Force Base in Delaware. The meeting occurred before the dignified transfer ritual (where officials bring the remains home and send them to the mortuary.)
On Fox News, August 30, Hannity discussed what happened at the ceremony with two fathers of slain marines. Marine Staff Sgt. Taylor Hoover's father told host Sean Hannity his family refused to meet President Biden.
Gold Star father Darin Hoover, whose son Marine Staff Sgt. Taylor Hoover was killed in Kabul last week, on meeting Democrat President Joe Biden: "We said absolutely not. We didn't want to deal with him. We didn't want him anywhere near us." pic.twitter.com/iulnbFfkmz

— Jason Rantz on KTTH Radio (@jasonrantz) August 31, 2021
Marine Lance Corporal Jared Schmitz's father did meet with Biden, and now, he regrets it. Mr. Schmitz had originally planned not to convene with the president. He said he didn't vote for the president, doesn't support the work he's done in Afghanistan, and blames him for his son's death. At any rate, he decided to go ahead to "have some words" with him about his feelings. He also felt he owed it to his son to do so.
Schmitz said Biden talked more about his son Beau than the lost marine. Eventually, the grieving father said he took out a photo of his son and told the president never to forget his name or face or the names of the 12 other human beings who died under his watch. He also advised Biden to "take some time to learn their stories."
According to Schmitz, his words stunned Biden, who retorted that he did know their stories.
This isn't a unique story. Many of the families felt torn about meeting with the president. Of those who decided to, many criticized President Biden decision's to his face. Jiennah McCollum, the pregnant widow of Marine Corps Lance Corporal Rylee McCollum, said she came away from the meeting feeling his words were hollow, and he didn't seem to care much about her loss.
~Here's to Our Liberty!
Copyright 2021, LibertySons.org