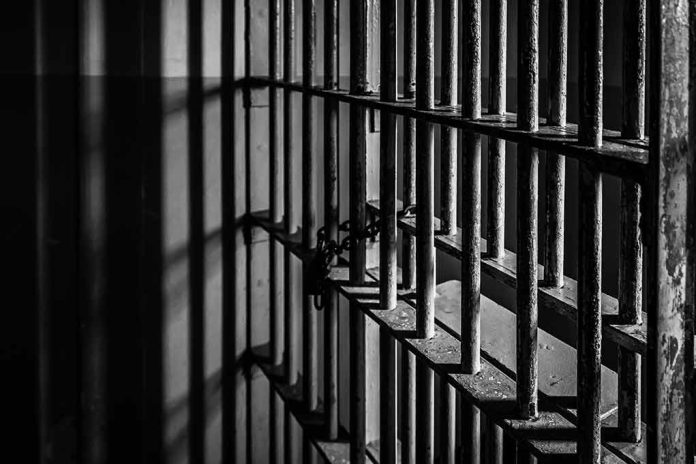 (LibertySons.org) – Former New York City mayor and erstwhile Trump attorney Rudy Giuliani passionately crusaded for former President Donald Trump after the 2020 election to present a convincing election fraud case. Yet, state officials, multiple courts, and federal officials, including Trump appointees, denied the existence of any valid fraud evidence on a scale that might have affected the outcome. Despite repeated assurances, Trump, Giuliani, and others persevered in their pursuit, recently earning them racketeering charges in Georgia. The former mayor turned himself in at the Fulton County Sherriff's Department on August 24 in response to a special grand jury indictment handed down on August 15.
Officers booked and processed Giuliani, and a judge approved a $150,000 bond agreement his attorneys negotiated with prosecutors. He told gathered reporters the court would likely arraign him in a week or two, possibly virtually. He also opined that history would remember Fulton County District Attorney Fani Willis for conducting "one of the worst attacks on the American Constitution ever when this case is dismissed."
Giuliani and Trump face 13 counts — more than any of the other 17 defendants. The charges include three counts of making and writing false statements, three counts of asking a public servant to violate an oath of office, two counts of conspiracy to make or write false statements, two counts of conspiracy to commit first-degree forgery, conspiracy to file false documents, conspiracy to impersonate a public officer, and violation of Geogia's Racketeer Influenced and Corrupt Organizations (RICO) Act.
The indictment alleges Giuliani played a crucial role in a conspiracy to coerce election officials in Georgia, Arizona, and Pennsylvania to act upon fraud claims that state officials and lawyers in court actions proved false on multiple occasions. The alleged RICO offense concerns Giuliani's purported coordination with others to accomplish some goals.
Prosecutors also claim the former Trump attorney made false and unsupported claims about the security and integrity of voting machines. They accuse him of filing false legal claims as well as making statements. Additionally, the indictment charges Giuliani with making false claims about election worker Ruby Freeman, resulting in some individuals threatening her life and harassing her.
On August 24, the court granted a motion to begin trial as soon as October 23.
~Here's to Our Liberty!
Copyright 2023, LibertySons.org