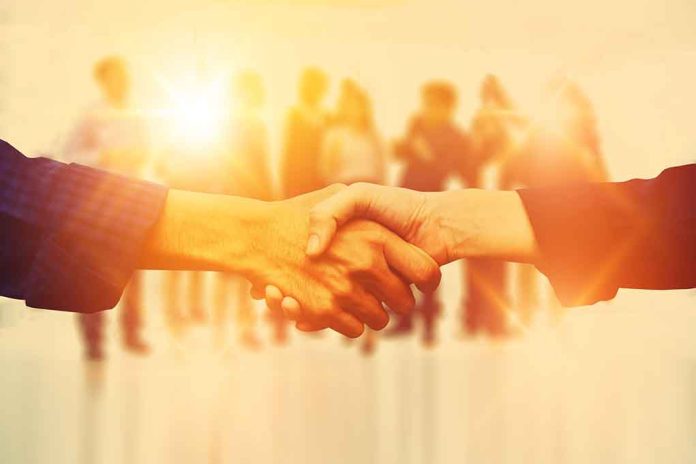 (LibertySons.org) – The saga of Jeffrey Epstein, who died after allegedly committing suicide in prison on August 10, 2019, is far from over. The trial of his alleged cohort Ghislaine Maxwell officially began on November 29. New information paints a clearer picture of the questionable relationship between the socialite, the wealthy tycoon, and his victims.
During an opening statement, US Prosecuting Attorney Lara Pomerantz characterized the relationship between Maxwell and Epstein, calling them "tight partners." The British socialite allegedly acted as his right hand in their mission to seek out and collect young victims.
"She was in on it from the start," a prosecutor said Monday of Ghislaine Maxwell's role in Jeffrey Epstein's crimes. https://t.co/8eQYHDZiSC

— The Hill (@thehill) November 30, 2021
Pomerantz suggested that Maxwell was equally guilty; she took on a mothering role to the victims, grooming them to gain their trust. She then abused her position to feed Epstein young girls for sexual exploitation. The attorney's stance is that Maxwell played a key role as an accomplice in the financier's ongoing and repeated assault crimes.
Pomerantz described victims as disadvantaged children from broken homes. She also called Maxwell a predator. The prosecutor accused the socialite's continued involvement in the scheme as little more than a way to preserve her posh lifestyle.
Maxwell's defense team responded by downplaying her involvement in their opening statement. Instead, they accuse the government of pushing Epstein's crimes on her because they cannot try him from the grave.
Maxwell faces six felony counts of sex trafficking and conspiracy. If the jury convicts her, she faces the prospect of decades worth of prison time — if she makes it out at all.
~Here's to Our Liberty!
Copyright 2021, LibertySons.org