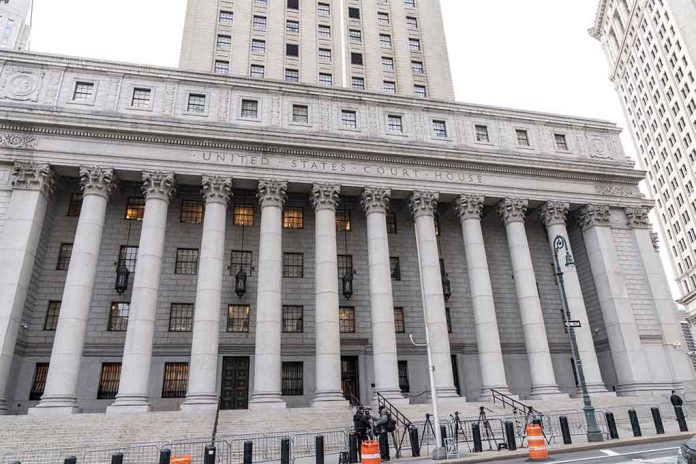 (LibertySons.org) – Ghislaine Maxwell headed to court for her part in the Jeffrey Epstein sex abuse scandal earlier this year. While a jury officially convicted her on sex trafficking charges in December 2021, new evidence involving a juror may now be used to convince the judge overseeing the case to move for a mistrial. Here are the details.
On January 19, Maxwell's attorneys filed a motion for a new trial due to concerns about comments Juror No. 50, Scotty David, made during interviews and the deliberation process. David allegedly told others that he suffered sexual abuse as a child.
Maxwell's attorneys take issue with David's decision to share his background and the fact that he doesn't remember exactly how the abuse unfolded. They feel it unfairly swayed the jury to rule against the well-connected British socialite. David, for his part, believes that failing to remember an incident in its entirety isn't necessarily proof it didn't occur.
Ghislaine Maxwell has formally requested a new trial, less than a month after her conviction on sex trafficking charges.
https://t.co/yGZrOCA8Qi

— Newsmax (@newsmax) January 20, 2022
The defense intends to include the interviews and David's remarks in its motion, as well as his juror questionnaires. They accuse the former juror of failing to disclose his previous sexual abuse during screening. David says he doesn't remember the form asking any such question but believes he would have answered it honestly if it did.
The courts have sealed any information pertaining to David's case until they hand down a ruling on the retrial motion.
Prosecutors have until February 2 to reply to the defense's request. However, it isn't yet clear whether the courts will agree to grant Maxwell a new trial, even in the face of this kind of evidence. The socialite's defense team will need to prove David deliberately misled the courts to manipulate the situation and ensure his position on the jury.
~Here's to Our Liberty!
Copyright 2022, LibertySons.org