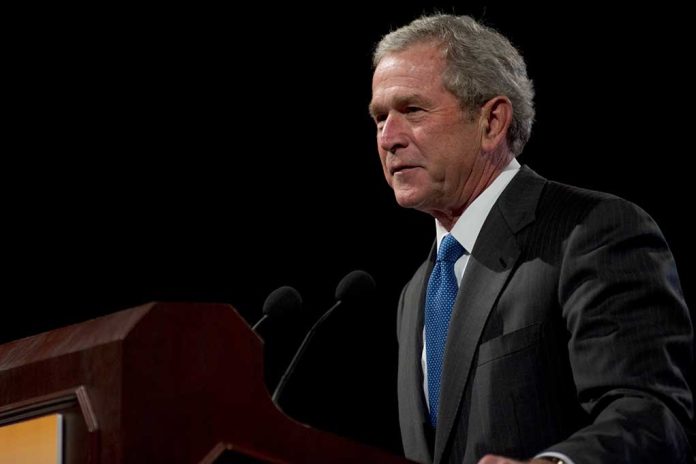 George W. Bush Gets a New Role
(LibertySons.org) – Former President George W. Bush is taking on a new type of challenge as a teacher for MasterClass. During his time as Commander in Chief, he dealt with various catastrophes including the 9/11 terrorist attacks, the devastation of Hurricane Katrina, and an economic downturn in 2008. The previous POTUS draws on his own experiences in the Oval Office to teach about leadership, communication, and crisis management.
George W. Bush Gives a Moment-by-Moment Breakdown of 9/11 in His New MasterClass Course

#911 #DAILYBEASThttps://t.co/WTzh63ZT2C

— 🌊 Peter Taylor 💙🤓❄️🌎 (@br00t4c) August 16, 2022
The 43rd president doesn't shy away from his mistakes either. He addresses some of the missteps and other issues that arose during his time in the White House. His three-hour class is an open and honest discussion of what it was like to be the leader of the free world, including a look at the immense pressure he was under.
Bush even takes a moment to let students see his art. He shows off the paintings in his studio and explains how he got into the hobby. His wife, Laura Bush, also joins him in a segment, offering her point of view on everything from campaigning to life in Washington, DC.
The course is part of the MasterClass Presents the White House series, which also includes other instructors who have worked in government. Former Secretaries of State Condoleezza Rice and Madeleine Albright teach a joint lesson on their experiences. They touch on relationship building, lessons they learned while in office, and how to learn from mistakes. Former President Bill Clinton and his wife, Hillary Clinton, also teach classes through the platform.
~Here's to Our Liberty!
Copyright 2022, LibertySons.org