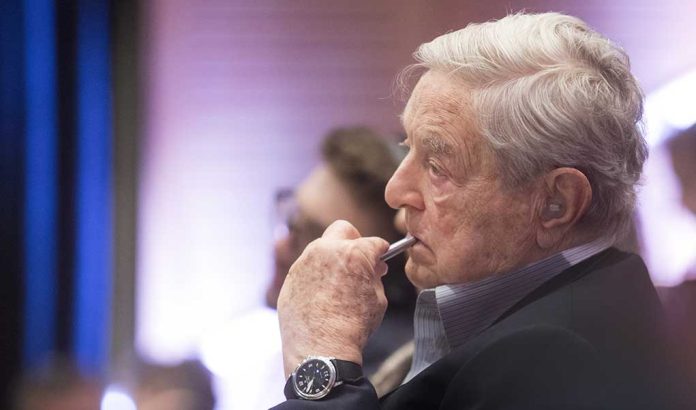 (LibertySons.org) – Every story has an antagonist, or a villain. For many on the Right, that person is George Soros. The billionaire has been at the center of several conspiracy theories around the world. Soros most recently came back into the spotlight following the indictment of former President Donald Trump.
The only question that matters about George Soros is "are the claims made about him true?" Nothing else matters. Not his religion. He's fair game, as anybody wielding outsize influence should be. He should get no special protection from criticism https://t.co/itNbe3xQjL

— Ari Goldkind (@AriGoldkind) April 4, 2023
Conspiracy theorists from all corners of the globe have described Soros as a puppet master. Many claim he's the one behind various crises, including the collapse of currencies and surging immigration. The Prime Minister of Malaysia blamed Soros for the collapse of his nation in 1997.
In 2018, then-President Trump claimed the Hungarian Jew was funding migrant caravans coming into the US. Prominent Right-wingers have claimed Soros is attempting to replace Whites with Blacks and other people of color as part of the "great replacement." Additionally, some on the Right believe that Soros was responsible for the white supremacist rally that took place in Charlottesville, Virginia, as a way to harm their image and cause.
More recently, many on the Right feel the recent indictment of former President Trump has come as a result of influence from Soros. According to a statement from the 45th President himself, the billionaire "handpicked and funded" Manhattan District Attorney Alvin Bragg.
Statement by Donald J. Trump, 45th President of the United States of America pic.twitter.com/d9NlWQqMbQ

— Team Trump (Text TRUMP to 88022) (@TeamTrump) March 30, 2023
Several other leading Republicans have come forward to accuse Bragg of being backed by Soros, including Senator Rick Scott (R-FL), Representative Elise Stefanik (R-NY), Governor Ron DeSantis of Florida (R), and the controversial Representative Majorie Taylor Greene (R-GA).
Soros rarely addresses the public directly but did so during the Munich Security Conference in February. Soros called Trump a "confidence trickster," adding that his "narcissism grew into a disease." The financier also predicted the former president wouldn't win the GOP's nomination, prompting him to run as a third-party candidate and hand Democrats an easy win.
~Here's to Our Liberty!
Copyright 2023, LibertySons.org