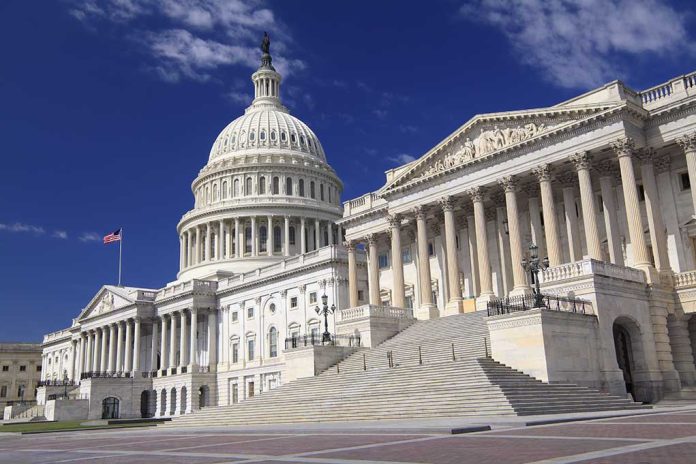 (LibertySons.org) – The Capitol steps serve as a perfect meeting place for Congress members and media outlets, especially on gorgeous spring days. Yet the scene recently turned chaotic for Rep. George Santos (R-NY) as he answered questions surrounded by press members. The embattled politician also parried verbal assaults from Congressional colleagues ahead of a big vote on Wednesday, May 17.
Reps. Jamaal Bowman (D-NY) and Alexandria Ocasio-Cortez (D-NY), both members of the "Squad," interrupted Santos' impromptu press conference on the Capitol steps, where he answered media questions regarding whether he would resign in the wake of his recent indictment on 13 federal charges ranging from wire fraud and money laundering to making false statements to Congress.
Asked Rep Santos how he can effectively serve his constituents while facing indictment, a House ethics probe, and not serving on any committees. "I have not not done my job since I've gotten here. I can chew and walk gum at the same time. I can chew gum and walk at the same time" pic.twitter.com/Bh3PhCmWB2

— Manu Raju (@mkraju) May 18, 2023
The New York Post and others reported Bowman shouted, "You've got to resign!" and Ocasio-Cortez (AOC) followed up with, "You gotta go, man!" Santos used the distraction to excuse himself from speaking with reporters, saying, "there is a deranged member here."
As @Santos4Congress was addressing the press about the vote to refer his expulsion resolution to Ethics, @RepBowman and @AOC started yelling for him to leave Congress.

Santos at one point during the yelling said "there's a deranged member here." pic.twitter.com/4V33ttrM47

— Mychael Schnell (@mychaelschnell) May 17, 2023
As Santos retreated, Bowman began to appeal to the Republican Congress members gathered on the steps, saying, "Expel him! Save the party! Your party's hanging by a thread!" At that point, Bowman and Rep. Marjorie Taylor Greene (R-GA) verbally dueled. AOC, who's tangled with Taylor Greene several times, walked up to Bowman, grabbed his arm, and said, "She ain't worth it," effectively ending the altercation.
Rep. Jamaal Bowman, who heckled George Santos mid Santos-gaggle moments ago, in a tiff with MTG outside the Capitol steps.

AOC comes up at the end: "She ain't worth it bro" pic.twitter.com/R5L20WvhFK

— Ursula Perano (@UrsulaPerano) May 17, 2023
On Wednesday evening, the House voted along party lines to refer Rep. Robert Garcia's (D-CA) privileged resolution to expel Santos to the Ethics committee. Garcia argued Santos is an admitted criminal who committed fraud in Brazil and now faces charges in the US and should not have access to privileged Congressional information. The Ethics Committee is already investigating Santos based on an earlier resolution submitted by Rep. Ritchie Torres (D-NY) in January. All 221 Republicans present voted for the referral, 207 Democrats voted against it, and seven more simply voted "present" — a way of abstaining from voting.
~Here's to Our Liberty!
Copyright 2023, LibertySons.org