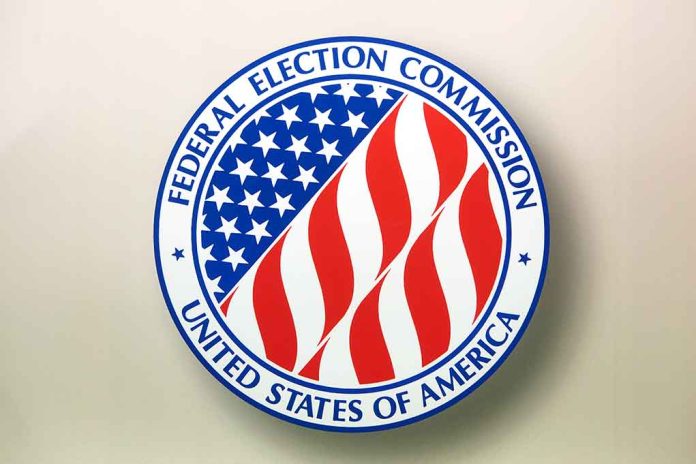 (LibertySons.org) – Representative George Santos (R-NY) won his election bid in 2022 to represent New York's 3rd Congressional District. However, the freshman congressman has been scrutinized for falsifying his resumé. Now, the Federal Election Commission (FEC) is coming after Santos.
The FEC recently presented the New York Republican with a decision: he can either announce his candidacy for 2024 or disavow donations to his campaign. The FEC sent Santos a letter explaining that his campaign had made expenditures in the name of his 2024 candidacy and accepted campaign contributions.
The FEC said Santos must address this issue by either notifying it that he's not a candidate or filing a "Statement of Candidacy" to alter his primary campaign committee. The commission has given Santos 35 days to comply with its directive.
FEC demands George Santos either declare candidacy or disavow fundraising | Just The News https://t.co/XIkP3lBoJb

— John Solomon (@jsolomonReports) February 10, 2023
The scrutiny is nothing new for the New York Republican as he has been at the center of several scandals in his short time as a member of Congress. Both Democrats and Republicans have criticized Santos for fabricating or embellishing information in his biography to make his resumé more attractive to voters.
The New York Republican admitted to lying in December, just a month after his November 8 election win. Santos had claimed to have worked for prominent financial businesses such as Goldman Sachs and Citigroup. The congressman also claimed to have graduated from Baruch College, but records indicated all those claims were false.
In an interview with Newsmax, Santos claimed he lied due to the restrictive nature of the Nassau County GOP. The New York Republican explained that the county's GOP would've never nominated him if he hadn't graduated from college. He also criticized them for not accepting anyone without a degree. Santos said he's only human and made mistakes, adding he's since made peace with those mistakes.
It remains to be seen how the FEC might ultimately regard some of his alleged violations of election laws.
~Here's to Our Liberty!
Copyright 2023, LibertySons.org