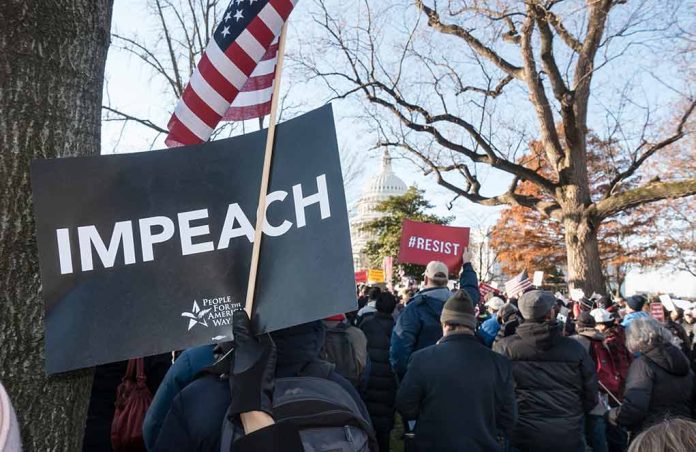 (LibertySons.org) – Recently returned after the summer break, conservative Republicans are ready to resume business, including pursuing investigations into President Joe Biden. Firebrand Rep. Matt Gaetz (R-FL) isn't making any bones about threatening Rep. Kevin McCarthy's (R-CA) tenuous position as House Speaker unless he forces votes on impeachment inquiries and proceedings.
Gaetz sat down with Todd Starnes, a well-known conservative radio host, to discuss his expectations. He talked about expending considerable effort last January developing "a toolkit for House Republicans to use in a productive and positive way." He was referring to his negotiated reduction of the threshold to call for a "motion to vacate the chair," a procedure for triggering a recall vote for the House Speaker position. Prior to Gaetz's maneuvering, a majority of House Republicans had to vote to initiate the motion. In a trade to obtain support as House Speaker in January, McCarthy agreed that a single House Republican could initiate the recall.
Some pundits likened the deal to a devil's bargain, warning the price would eventually come due. Regarding the Biden impeachment votes, Gaetz told Starnes, "[I]f Speaker McCarthy stands in our way, he may not have the job long."
Yet, McCarthy is facing resistance from more moderate Republicans, many from purple districts who would face backlash in upcoming elections and are counseling waiting to pursue impeachment inquiries or proceedings until firmer evidence exists. McCarthy may find himself firmly between a rock and a hard place, potentially undermined by either side of the argument.
Colorado Rep. Lauren Boebert had tried to bring a resolution for articles of impeachment against Biden in June over his handling of the Southern border, forcing House floor action on her measure. The House voted along party lines to refer her resolution to the House Committees for Homeland Security and the Judiciary, where they remain.
Fox and Friends host Steve Doocy, Ainsley Earhardt, and Brian Kilmeade recently pointed out that with Steve Scalise's recent announcement that he will undergo treatment for blood cancer, Republicans may not have an immediate choice to replace McCarthy even if Gaetz does force a vote, potentially leaving the position in limbo.
~Here's to Our Liberty!
Copyright 2023, LibertySons.org