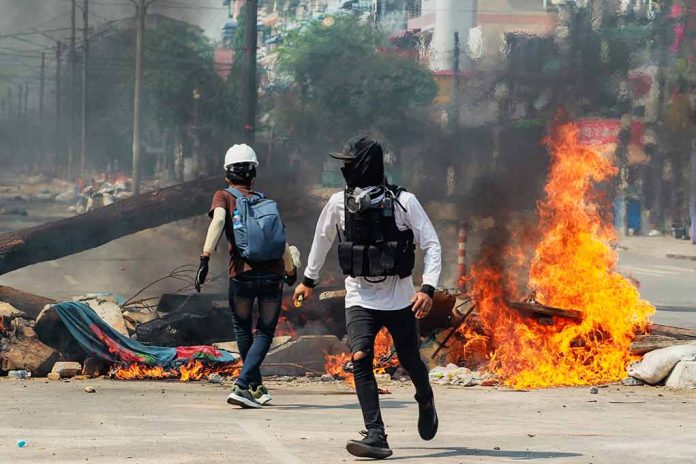 (LibertySons.org) – Gabon's electoral commission announced the official reelection win of President Ali Bongo Ondimba early on August 30 with nearly two-thirds of the vote after a contested election on August 26. Soon after the announcement, senior military officers, including those of the elite Gabonese Republican Guard, the most highly trained security unit also responsible for the president's safety, announced they were annulling the election results and dismantling the government, ousting Bongo and his family from more than 50 years of rule over the nation.
Military officers wearing camouflage fatigues announced their takeover on national television early Wednesday. Junta members said they were keeping the former president under house arrest at his home in the care of his family and doctors. They explained that the transitional government had annulled the election results that declared Bongo the winner. Additionally, the junta said they had arrested one of the former president's sons, Nourredin Bongo Valentin, and six others on treason charges.
At some point later in the day, the junta allowed Bongo to release a video showing him sitting in what he claimed was his residence in what appeared to be a library. He asked his "friends" worldwide to "make noise" on his behalf and advocate for him to restore him to power. He claimed neither his wife nor son was with him as he made the video, and the circumstances surrounding how or when he made the video are unclear.
By Wednesday evening, the junta had declared General Brice Oligui Nguema, the commander of the Republican Guard and a cousin to Bongo, as the transitional leader. The military announced it had shut down the border and all government institutions, forbidding international travel or commerce as it reorganized the government.
Gabon is a nation on the west coast of Africa, home to about 2.4 million people. It primarily exports oil and minerals, generally providing its citizens with a higher standard of living. The nation became independent from France in 1960. Omar Bongo, the former president's father, came to power in 1967 and held it until he died in 2009, primarily under a single-party rule until 1991. Ali Bongo had ruled as president since his father's death from cancer despite several contested elections and two previous coup attempts.
While the people of Gabon openly celebrated the change in government in the streets, international observers showed less enthusiasm. Moussa Faki Mahamat, president of the African Union (AU), condemned the military coup, calling for a "return to democratic constitutional order."
Bola Tinubu, Nigeria's president, monitored developments closely and consulted with other AU leaders to consider "next steps." UN Secretary General Antonio Guterres also condemned the "ongoing coup attempt" and called for the safety of Bongo and his family.
~Here's to Our Liberty!
Copyright 2023, LibertySons.org