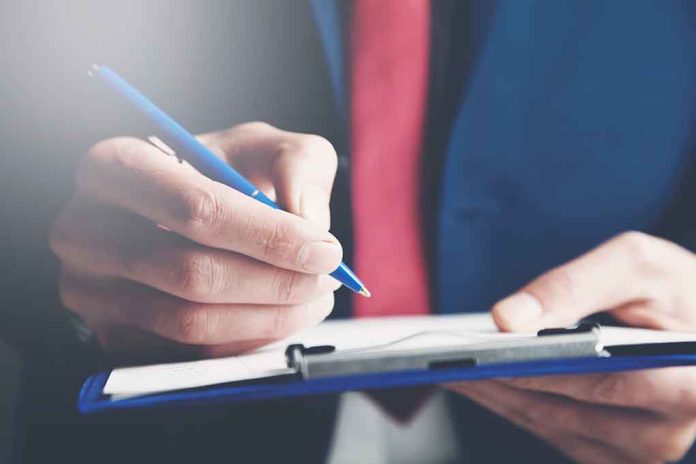 (LibertySons.org) – The US House of Representatives has had a rocky start to the new session. The Lower Chamber took multiple rounds of votes and many days to elect the new speaker, and swirling rumors of secret additions to the House rules package had Democrats already crying foul. But Representative French Hill (R-AR) tried to calm worries by stating on the House floor that there weren't any hidden parts to the package.
Republican Denies Secret 'Addendum' To House Rules https://t.co/nvfyt2hUR6 pic.twitter.com/FwG8biCLrQ

— Worcester Tea Party (@WorcTeaParty) January 10, 2023
PunchBowl News published an article about this supposed hidden agenda on January 9. The media outlet reported that Republicans were keeping a three-page addendum private. The article stated this addition included budget-related rules and controversial decisions about committee seats.
Axios also wrote a story about the three-page document, stating it confirmed the existence with Republican aides and members. The publication explained the supplement contains the concessions Speaker Kevin McCarthy (R-CA) made to get GOP votes. National Republican Congressional Committee Chair Richard Hudson told the news source he saw the document, but many representatives refused to confirm or deny its existence.
Senator Brian Schatz (D-HI) tweeted about the assumed secret pages of the House rules as if their existence were a documented fact.
There is a secret three page addendum to the House Rules that secured the support of the wackiest members of the House and the American public deserves to know what's in it.

— Brian Schatz (@brianschatz) January 9, 2023
The Wall Street Journal also suggested the new Speaker of the House was holding back information. The publication claimed the concessions and agreements McCarthy made to get votes from holdouts within the GOP aren't public, and many members may never know what they are.
Democrats have been unhappy with the rumors swirling about this addition to the rules. They believe it undermines the "transparency" of the House. Representative Hill addressed the situation and set the record straight with his remarks, noting he was part of the group working hard to get the rules package in order and ready for a vote.
On January 10, McCarthy allegedly also spoke up in a closed meeting, declaring the three-page document did not exist.
~Here's to Our Liberty!
Copyright 2023, LibertySons.org