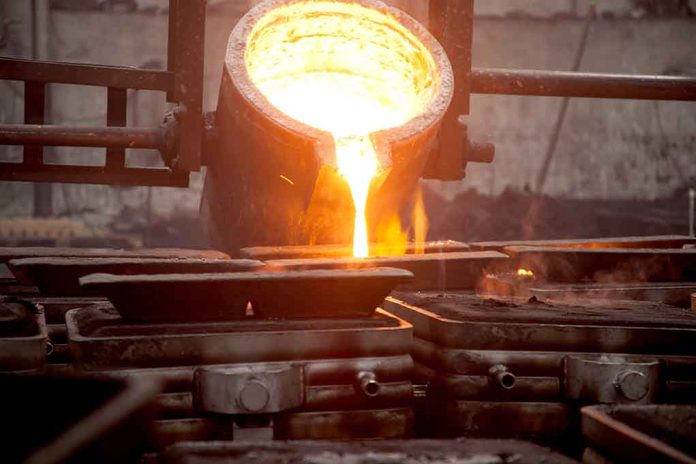 Foundry Worker Incinerated After Falling Into Molten Iron Pot
(LibertySons.org) – A tragic yet preventable accident at a Mapleton, Illinois, foundry owned by Caterpillar of Irving, Texas, revealed an ongoing issue within the company that failed to keep employees safe. Steven Dierkes was trying to collect a sample when he fell into an 11-foot pot containing 2,000-degree molten iron. He died immediately, and the Occupational Safety and Health Administration (OSHA) found the employer guilty of not providing safety barriers.
A 39-year-old Illinois foundry worker fell into a pot of molten iron — 11 feet deep and heated to more than 2,000 degrees — on June 2 and was "immediately incinerated," the Occupational Safety and Health Administration said last week.A … https://t.co/hwDwtBmyFU

— News Pug (@news_pug) November 17, 2022
An OSHA report published on November 9 about the June 2 incident noted Caterpillar was guilty of a willful violation. The agency's investigation showed the company knowingly failed to abide by industry safety standards. It routinely left workers in precarious positions as they closely handled duties just near the unshielded openings of the melting pots. The agency stated Caterpillar could have prevented the accident by instituting proper fall protection. OSHA also initiated a fine of $145,027 and gave the company 15 business days to request a meeting with the safety commission.
The death of Dierkes came only months after an incident in December 2021 claimed the life of Scott Adams. The man, who was working as a contractor, succumbed to a fall at the same facility. Adams was disembarking a ladder when he fell into an open hole.
OSHA also found, in Adams's case, that Caterpillar was at fault. At that time, it issued citations to contractors on site for failing to provide fall protection and imposed a fine of $10,151. Again, the agency noted the fatal accident was preventable.
~Here's to Our Liberty!
Copyright 2022, LibertySons.org