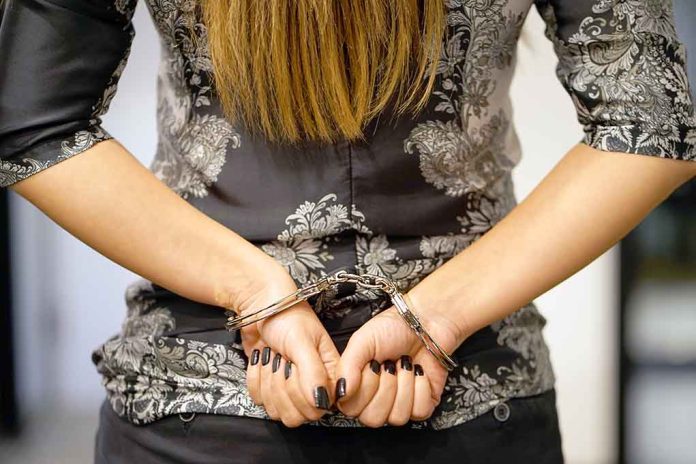 (LibertySons.org) – Nicola Sturgeon, the only woman ever to serve as Scotland's First Minister, announced she would resign effective March 29 after a record-breaking eight years in office. She ceded the government and party leadership positions in the Scottish National Party (SNP) to her successor, Humza Yousaf, after he won the leadership election. On Sunday, June 11, Scottish police arrested and questioned the popular former leader.
Police Scotland arrested Sturgeon in connection with an ongoing investigation, called Operation Branchform, which the department began two years ago. Allegations of financial improprieties arose over SNP transactions relating to the substantial disappearance of activist donations totaling more than £600,000 — roughly US $750,000 — meant for a fund targeted toward a future independence referendum campaign. An end-of-year 2019 statement revealed the party only had about £97,000 in the bank and net assets totaling roughly £272,000 — leaving as much as £231,000 unaccounted for or expended without clear explanation.
Authorities released the former SNP party leader without charges after six hours of questioning. In April, investigators arrested and questioned Sturgeon's husband, Peter Murrell, the SNP's former chief executive. Additionally, former party treasurer Colin Beattie underwent questioning in April. Police released both men without charges pending further investigation.
While authorities detained Murrell, officers searched the home he shared with Sturgeon. They also seized a well-appointed motorhome valued at £110,000 from Murrell's mother's property. Yousaf later confirmed to media outlets that the party had purchased the motorhome for use as a mobile campaign office — an acquisition he didn't become aware of until after becoming the current SNP leader.
Sturgeon, Murrell, and Beattie were the only signatories on the SNP account. Political opponents and some SNP party officials alike have called for Yousaf to suspend Sturgeon and Murrell. An SNP spokesperson declined to comment.
In a tweet, Sturgeon called her arrest and interrogation "a shock and deeply distressing." She expressed her gratitude for those who continued to show kindness and faith in her, lending her strength, and she added, "I know beyond a doubt that I am, in fact, innocent of any wrongdoing."
The scandal has reportedly hurt the SNP's polling numbers and its cause of achieving Scottish independence.
~Here's to Our Liberty!
Copyright 2023, LibertySons.org