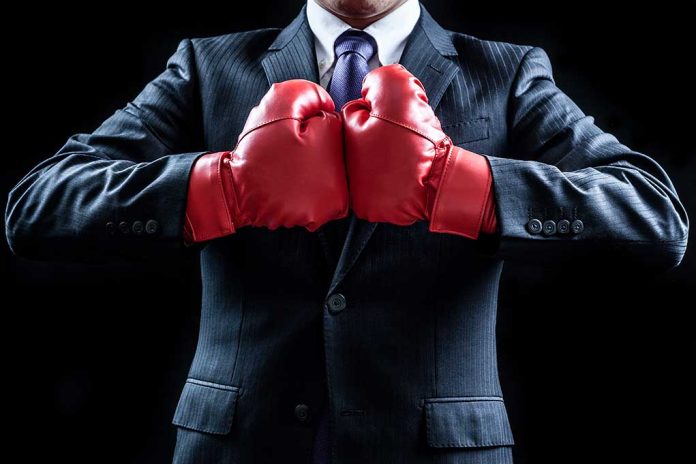 (LibertySons.org) – Representative Marjorie Taylor Greene (MTG) recently suggested a "national divorce" between the red and blue states. The Georgia conservative's proposal has prompted criticism from both sides of the political spectrum. One Republican recently said that MTG needs to "shut the h*ll up."
"Why do we listen to this crazy fool?" he wondered as he lit into the conspiracy theorist lawmaker. https://t.co/vFt2TyOBDi

— HuffPost Politics (@HuffPostPol) March 3, 2023
Greene's proposal suggests devolving most powers from the federal government to the state level, with the central government maintaining responsibility for significant policies such as national defense and border security.
Meanwhile, the individual states would be responsible for policies regarding law enforcement, education, and energy. The plan has found little support among the rest of MTG's party. Most of the GOP has dismissed the idea as impractical, claiming it could potentially harm the country's unity.
Michael Steele, a former Republican National Committee (RNC) Chairman, recently joined MSNBC's "The 11th Hour" for an interview. During the discussion, the former RNC Chair talked about MTG's proposal and expressed his feelings on the issue. Steele called Greene a "crazy fool" and urged her to be quiet, claiming she didn't have a clue about what she was saying.
.@MichaelSteele on Marjorie Taylor Greene's comments about a national divorce: "She has no clue what the hell she's talking about… This is the kind of crazy that requires a lot of heavy thinking because she isn't." pic.twitter.com/HkUpTJP4aq

— 11th Hour (@11thHour) March 3, 2023
Mitt Romney (R-UT), a former Republican presidential nominee, also condemned the proposal, citing the importance of national unity and the historical significance of maintaining a united country. Other prominent conservatives, including longtime Donald Trump Steve Bannon, have also criticized Greene's call for a "national divorce," calling it unconstitutional and disrespectful to the nation's history.
While the idea of a "national divorce" may have some appeal to those frustrated with the current political climate, it appears to be largely impractical and out of step with the nation's founding principles of unity and cooperation. Ultimately, it will be up to political leaders from all sides to find ways to work together and bridge the ideological divides that currently exist in the country.
~Here's to Our Liberty!
Copyright 2023, LibertySons.org