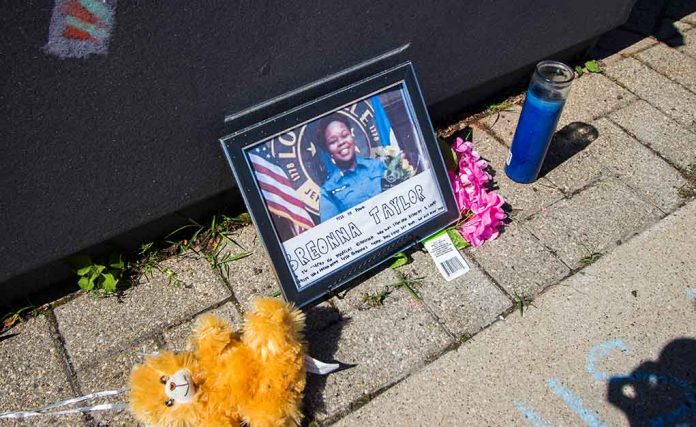 Officer To Plead GUILTY – Rumors Were True!
(LibertySons.org) – On August 22, Former Louisville Metro Police detective Kelly Hannah Goodlett pleaded guilty to conspiracy for her part in the death of Breonna Taylor. The victim was shot dead during a police raid in March 2020 at just 26 years old. She is facing charges of violating Taylor's rights. As a condition of the deal, the former officer agreed to testify against the other men involved in the incident — her ex-coworkers.
#BreonnaTaylor killing: Ex-Louisville officer Kelly Hannah Goodlett to plead guilty to federal conspiracy charge – https://t.co/l5iGDDHCec https://t.co/JLYTYLI0Xz

— Laffy (@GottaLaff) August 22, 2022
Goodlett stood accused of falsifying the search warrant that led to the events at Taylor's house. Prosecutors said the officer provided untrue information that the victim was receiving packages at her home for her ex-boyfriend, who was the target of the drug investigation. The former detective faced additional allegations for meeting with her partner, Joshua Jaynes, who is also facing charges, to create false reports covering up their underhanded tactics.
Based on that warrant, law enforcement busted into Taylor's home. In response, her current boyfriend shot at what he thought were intruders. Police returned fire, killing Taylor.
During an investigation into the matter, officials uncovered evidence of the officers' misdeeds, including that their legal document contained bad information and did not meet probable cause requirements. Goodlett faces up to five years in prison for her part in the incident.
~Here's to Our Liberty!
Copyright 2022, LibertySons.org