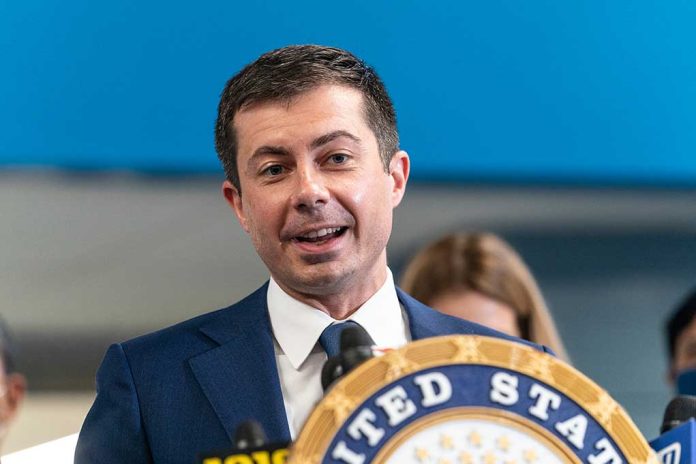 (LibertySons.org) – Controversy continues to rage surrounding the Biden administration's lack of response to the February 3 derailment of a freight train carrying toxic materials outside East Palestine, Ohio, on February 3. Perhaps, no one has taken more flack than Transportation Secretary Pete Buttigieg, and rightly so, considering it took him nearly four weeks to visit the site. Yet, amid this heightened media scrutiny, Mayor Pete managed to stir up more trouble after photographing a journalist asking him questions about the derailment.
On February 21, Daily Caller News Foundation investigative reporter Jennie Taer posted a brief video on her Twitter account of her asking Buttigieg about the then-ongoing crisis in East Palestine. The exchange appeared to happen as the secretary walked down a street with his husband, Chasten Glezman, in Washington, DC.
I asked Secretary Buttigieg about the crisis in East Palestine and I guess he didn't like that so he took a pic of me. Im just doing my job, sir. @DailyCaller pic.twitter.com/HjKNgF25FJ

— Jennie Taer (@JennieSTaer) February 22, 2023
Taer can be heard asking Buttigieg if he had a message for East Palestine residents. The secretary repeatedly declined to answer, instead referring her to his previous statements to the press on the incident. Taer continued to press, asking him if he planned on visiting the site of the derailment. Buttigieg mutters, "yes," adding that he was taking "some personal time," an apparent hint for Taer to leave him alone.
The 46-second video ends with him fidgeting with his phone and asking Taer if he can take her photo." She answered in the affirmative, and the clip ended.
As one might expect, Twitter users were quick to respond to the secretary's strange response to a reporter asking him questions. For instance, six-time Emmy Award winner and Fox News host Harris Faulkner stated the obvious and asked why the Secretary of Transportation found it necessary to take a photograph of a member of the "FREE press" asking questions.
Why did the Transportation Secretary Pete Buttigieg need a picture of a member of our FREE press? Is he trying to be funny… or is something else at play here? Targeting? Journalists are allowed to speak with public officials who are in public. #politereporter https://t.co/3fjYlEFkk3

— HARRISFAULKNER (@HARRISFAULKNER) February 22, 2023
Faulker had a couple of questions of her own, asking if Buttigieg was "trying to be funny" or if "something else [was] at play?" She also pointed out that reporters "are allowed" to question public officials!
Mike Davis, the former head counsel for nomination for Senate Judiciary Chair Chuck Grassley (R-IO), echoed that sentiment, adding that Taer had a First Amendment right to ask questions while he walked down a public sidewalk. he also pointed out that the secretary had his security detail with him, precluding any claim that the felt threatened by the Fox News reporter in any way.
So far, Taer's post has received more than four million views.
~Here's to Our Liberty!
Copyright 2023, LibertySons.org