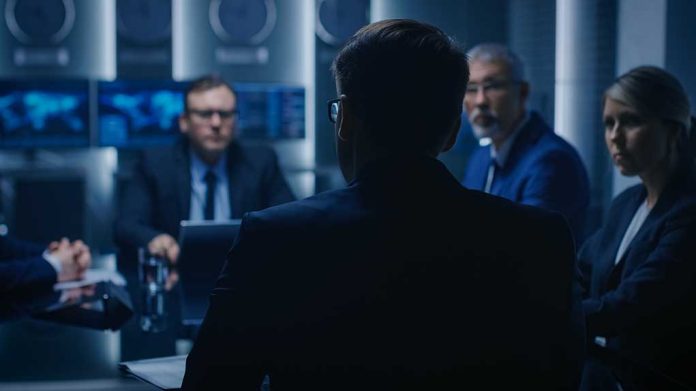 (LibertySons.org) – The Biden administration has faced a lot of scrutiny for its handling of the immigration crisis. With record numbers of people coming across the Mexican border, the White House has had little success stemming the flow. An exclusive report from the Daily Caller News Foundation (DCNF) revealed the administration might be looking at a serious change after a private meeting of Immigration and Customs Enforcement (ICE) officials and anti-ICE advocates on December 1.
ICE Met Behind Closed Doors With An 'Abolish ICE' Activist.

"At this point it is not surprising that ICE would have someone like this influencing policy — the current administration is trying to abolish it from within." – FAIR's Haumanhttps://t.co/7GyrLdJ8Kj

— FAIR (@FAIRImmigration) December 7, 2022
Inside sources told DCNF the closed-door event featured panelists who are actively working to eliminate the immigration agency. The get-together was to talk about the Alternatives to Detention (ATD) program, which uses technology to monitor illegal immigrants in the US while they wait for their court dates. It allows an app to use GPS monitoring and telephone reporting instead of in-person check-ins.
The abolish ICE activists and panelists expressed a desire for the agency to stop surveilling illegals altogether. They wish to see nonprofit organizations take over monitoring and handling people coming into the country illegally.
Benjamin N Cardozo, a law professor at Yeshiva University who co-authored a paper on abolishing the agency, was at the meeting as a panelist. He spoke about how ICE is harming people and wasting money. In fact, many of the panelists shared the viewpoint that ICE should no longer exist.
The meeting was allegedly to evaluate ICE's monitoring procedures. Yet, with many panelists unequivocally against the agency's practices, what was the actual desired outcome?
~Here's to Our Liberty!
Copyright 2022, LibertySons.org