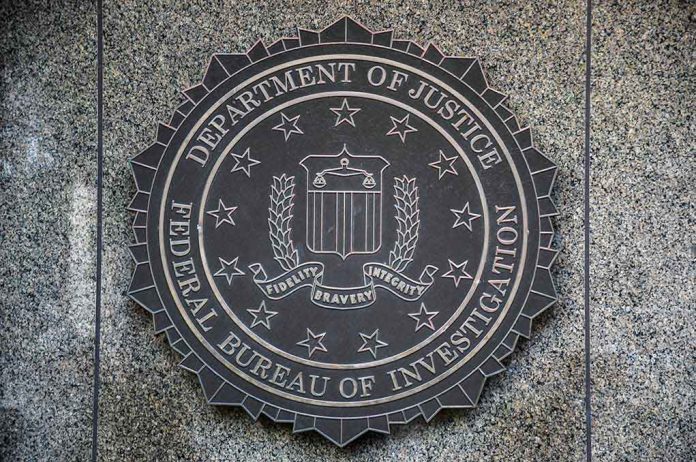 (LibertySons.org) – The US Department of Justice (DOJ) recently announced that the FBI ordered multiple arrests after an ongoing investigation uncovered a major spy scandal. The defendants were allegedly part of a secret Chinese police station located in Manhattan. Allegedly, they created the deception as part of an effort to discourage individuals from China living in the US from criticizing the communist country's government.
The Arrest
On April 17, the DOJ issued a press release naming two defendants: 59-year-old Chen Jinping and 61-year-old "Harry" Lu Jianwang. According to the statement, both men reside in New York City.
The press release discussed the details of the men's alleged crimes as laid out in a recently unsealed criminal complaint and supporting affidavit. Court documents indicated the two defendants are being charged after illegally opening and operating an "overseas police station." The FBI arrested both in their respective homes without incident on April 17.
The Crime
The criminal complaint alleges that Jianwang and Jinping were "conspiring to act as agents" of the People's Republic of China (PRC), the country's official name. Prosecutors are also charging the defendants with obstruction of justice after they destroyed evidence of their ongoing communication with an official of the PRC's Ministry of Public Services (MPS).
According to court documents, Jinping and Jianwang opened the fake police station in a Manhattan office building on the behalf of the MPS. The defendants quickly shut down their operation after they discovered the FBI was investigating them.
Breon Peace, the US attorney of New York's Eastern District, stated the prosecution of Jianwang and Jinping "reveals the Chinese government's flagrant violation" of America's sovereignty. The US attorney added that the bogus police station had no place in New York City or "any American community."
Kurt Ronnow, the Acting Assistant Director of the FBI's Counterintelligence Division, called the criminal operation "simply outrageous." He also pointed out the ridiculous nature of the MPS' arrogance in thinking it could "get away" with creating the secret police station in the US to help its "efforts to export repression" and disrupt America's "rule of law." Runnow concluded his remarks by stating that "this case" was an important reminder that Chinese officials would "stop at nothing" to coerce people into aligning with them and to "silence messages" they don't want to spread.
According to Reuters, Wang Wenbin, spokesperson for the Chinese Foreign Ministry, disputed the existence of the illegal police station in Manhattan, claiming China has a non-interference policy in foreign countries. CBS News, citing a report from Agence France-Presse (AFP), mentioned the spokesperson claimed the FBI's arrest of Jianwang and Jinping was the result of "political manipulation." AFP reportedly quoted Wenbin declaring that the PRC "firmly opposes" America's slander and smear campaign as part of its "transnational repression narrative."
~Here's to Our Liberty!
Copyright 2023, LibertySons.org