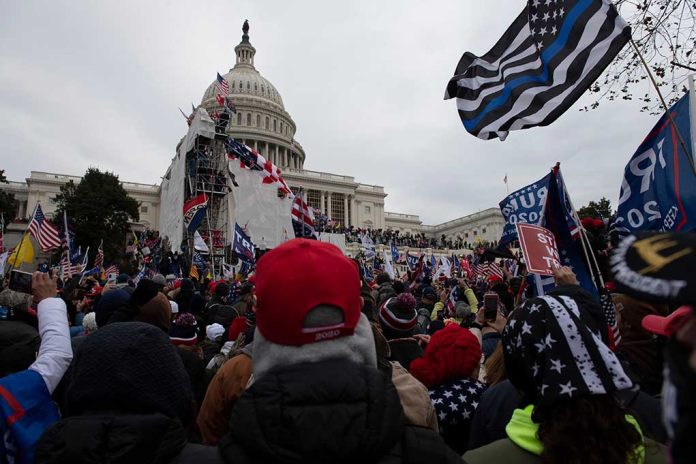 (LibertySons.org) – The name Ray Epps started circulating in connection with the January 6 incident at the Capitol after Senator Thomas Massie (R-KY) questioned Attorney General Merrick Garland about him during senate hearings. Now, the lawyer of one of the men charged for provoking violence that day is asking the court why Epps isn't also behind bars.
Proud Boys Chapter President Zach Rehl currently faces conspiracy charges. His attorney, Jonathan Moseley, questions why Epps hasn't met the exact charges, especially considering there is video evidence of him urging rally attendees to storm the Capitol building.
EXCLUSIVE: 1/6 defense attorney Jon Moseley to subpoena the FBI to get answers over Ray Epps.

"The government knew that their allegations against my client were false, because they knew who actually was responsible for inciting an attack on the Capitol."https://t.co/3nea0LdsHG

— National File (@NationalFile) October 28, 2021
Moseley feels the government lacks the evidence to prove his client encouraged anyone to commit a crime on January 6. The Feds admit Rehl had no weapons, refrained from committing any violent acts himself, and didn't cause any property damage that day.
The attorney recently filed for a subpoena to force the FBI to turn over videos showing Epps and Sean McHugh speaking to people at the rally and encouraging them to commit crimes. He believes the agency knows the real culprits who were responsible and suggests Epps, McHugh, and others caught on camera were working for the government.
Moseley is also urging other legal professionals representing people charged in conjunction with the Capitol incident to work together to prove the people caught on video were the actual provocateurs, not their clients. He wants them to push the government to indict the right people who broke the law that day, freeing Rehl and other unfairly targeted clients from the bogus charges.
~Here's to Our Liberty!
Copyright 2021, LibertySons.org