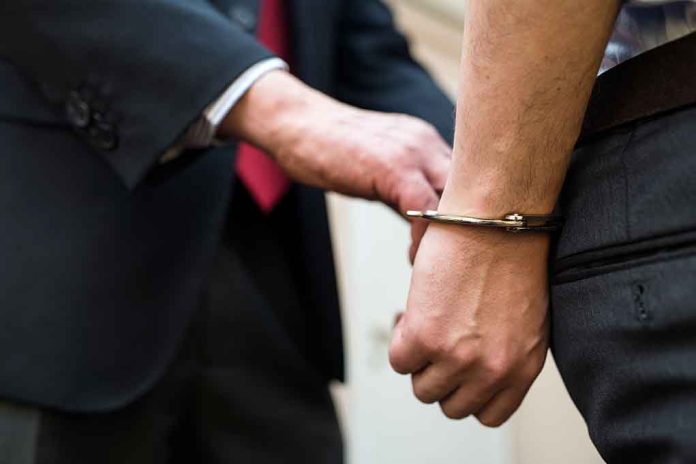 (LibertySons.org) – The FBI has arrested the January 6 perpetrator who wore a panda mask to conceal his identity. The suspect not only breached the Capitol Building on January 6, 2021, with several other rioters but also assaulted police officers and resisted arrest. The FBI detained the "Sedition Panda" in Florida. Court records indicate the defendant hasn't retained legal counsel or had one assigned to him yet.
Video evidence shows Jesse James Rumson entering the Capitol Building through a fire escape after demonstrators forced their way into the structure. The FBI identified Rumson as the panda mask wearer in a statement after reviewing CCTV footage that captured him putting the outfit on and taking it off as he entered the Capitol, revealing his face.
An FBI affidavit stated that the "Sedition Panda" remained inside the facility for little longer than 15 minutes, during which time he reportedly attacked cops and encouraged demonstrators to enter through a different door. Rumson is facing multiple charges, including assaulting and impeding law enforcement outside the Capitol Building, entering and remaining inside, and using physical force inside a forbidden area.
'Sedition Panda' Arrested in Connection With Jan. 6 Attack https://t.co/MaP3wHKnSz via @newsmax

— Chris 🇺🇸 (@Chris_1791) February 27, 2023
After authorities detained Rumson inside, he was pushed out of the Capitol through a different doorway. At some point, the "Sedition Panda" lost his mask, exposing his face. However, that didn't deter Rumson. On his way out of the Capitol, other rioters helped remove his handcuffs.
The suspect allegedly then made his way past the crowd outside the Capitol and towards a row of police officers guarding the structure. The suspect pushed an officer's mask, forcing their head back and upward.
According to CBS News, Rumson is only one of the 980 individuals accused of offenses related to the Capitol assault on January 6. He also joins the estimated 310 people who have reportedly been charged with assaulting, hindering, or obstructing law police during the incident, according to the US Attorney's Office in Washington, D.C.
~Here's to Our Liberty!
Copyright 2023, LibertySons.org