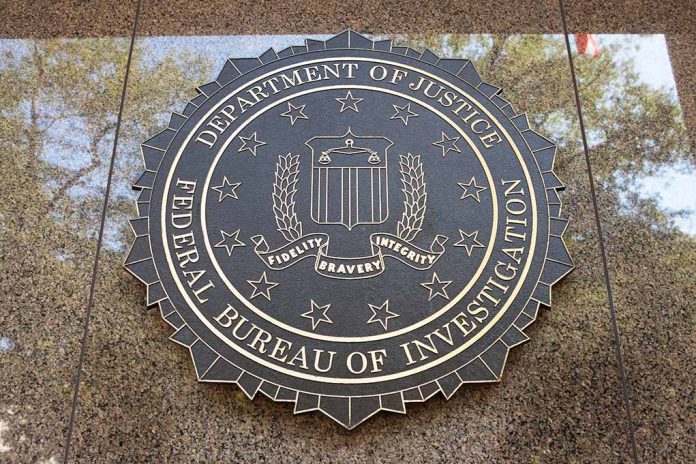 (LibertySons.org) – During a recent House oversight hearing, Representative Thomas Massie (R-KY) revived inquiries about a man named Ray Epps. Attorney General Merrick Garland refused to answer questions about the Arizona man despite video proof he was urging a Capitol breach. However, the attention on Epps has led to people launching their own investigations and facing some questionable blowback from the FBI.
On November 6, a citizen journalist Kyle Clifton claims the FBI followed him to his home and questioned him about Ray Epps. Clifton went on to say agents also followed a fellow journalist and interrogated him as well.
FBI follows and intimidates citizen journalists who confronted Ray Epps https://t.co/60KTjCqXSy

— ELIJAH (@ElijahSchaffer) November 6, 2021
Clifton and the other journalist had interviewed Epps' daughter after she contacted them. They also confronted Ray Epps, the alleged FBI informant, and tried to get information about his involvement on January 6. It was after these interactions when the FBI contacted the men.
The government refuses to answer questions about Epps and won't address claims that he was working for the FBI. Despite this, video footage from January 6 shows the man encouraging people to breach the Capitol.
The January 6th video I showed AG Garland, which he refused to comment on, now has 2.7 million views. The article linked here might explain why he won't tell us if assets of the federal government were present and encouraging others to enter the Capitol: https://t.co/57L1X0VDyz https://t.co/KIrnI4NTzv

— Thomas Massie (@RepThomasMassie) October 25, 2021
While law enforcement arrested many people that day, Epps was not one of them. He remains free and without any charges against him for his actions that day.
This situation leaves many questions unanswered. Who is Ray Epps? What role did he play on January 6? Was he an FBI plant? And why are FBI agents targeting journalists who talk to him?
~Here's to Our Liberty!
Copyright 2021, LibertySons.org