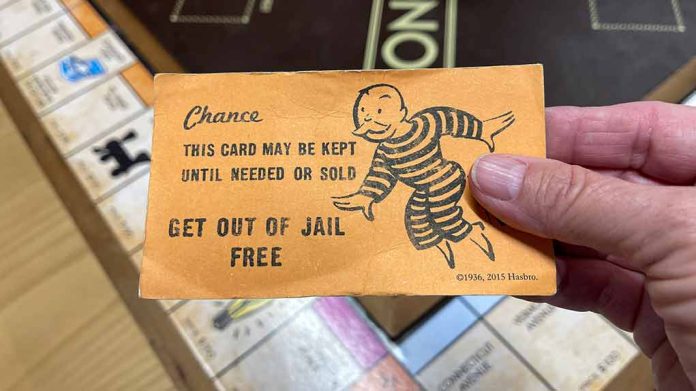 (LibertySons.org) – Scott Smith attended a Loudoun County, Virginia, school board meeting in June 2021 as a concerned parent. He became a polarizing political figure after police arrested him for disorderly conduct and resisting arrest. He angrily defended his daughter after the district school superintendent made a statement directly refuting her allegations that a gender-fluid biological male student wearing a skirt had sexually assaulted her in a school bathroom. Now, Governor Glenn Youngkin (R) has pardoned Smith.
The protective father pleaded not guilty to the charges. His attorney, Elizabeth Lancaster, pointed out that engaging in a heated verbal disagreement without making physical contact or threats of bodily harm didn't constitute disorderly conduct. The counselor argued that when deputies dragged Smith to the ground and then outside, they detained him unlawfully. She claimed her client broke no laws by resisting unlawful detainment.
Judge Thomas Kelley, Jr. found Smith guilty in August 2021 and sentenced him to 10 days in jail, but suspended the sentence on the condition that he maintain good behavior for one year. He appealed the verdict. In June 2023, the appellate court dismissed the charge of resisting arrest based on a paperwork error. Yet, Judge James Howe Brown denied a motion by Smith's attorney, William Stanley, to dismiss the disorderly conduct charge.
Like Lancaster before him, Stanley argued that Smith reacted to provocation from both the school superintendent and a woman who called his daughter a liar and threatened to destroy his business. Stanley argued that his client's reaction to the woman's provocation amounted to protected free speech.
In denying the motion in June, Judge Brown said, "he's lucky he didn't get slapped, never mind arrested," per reports from LoudounNow.
Smith reacted with astonishment, saying, "How the f*** does a judge say I deserve to be slapped?" He continued, "The problem with our justice system across our land is it's no longer fair." He added that the legal system continued to delay his family's healing after the attack on his daughter. He stated, "it's ridiculous, our governor needs to step up and do something."
On September 8, Gov. Youngkin did something. He granted Smith an absolute pardon reflecting his "factual innocence of Disorderly Conduct." In an accompanying press release, the governor praised the father's dedication to protecting his family. Youngkin promised to continue fighting for parents' rights to reinforce their values during their children's education.
~Here's to Our Liberty!
Copyright 2023, LibertySons.org