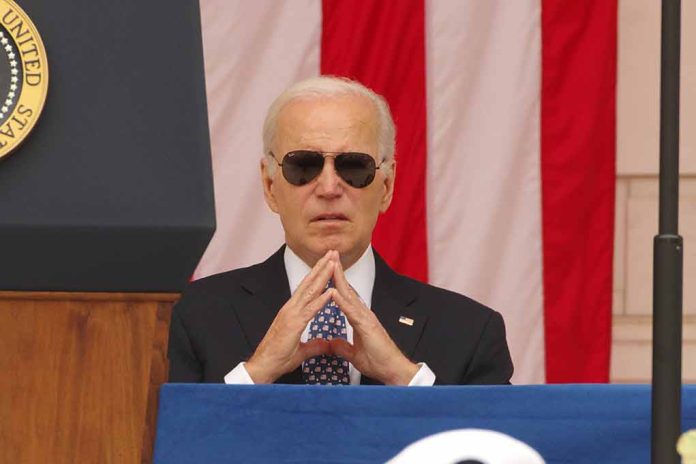 (LibertySons.org) – President Joe Biden spent three days in New York City to attend the United Nations (UN) General Assembly during the week of September 18, arriving Sunday evening and departing Wednesday evening. Yet, his packed schedule didn't include a meeting with New York's Democratic Mayor Eric Adams. In fact, the two men seemingly studiously crafted their schedules to avoid seeing each other during Biden's stay despite several high-profile events where they might have met on neutral ground amidst growing tensions over migrant issues.
From Bromance to Breakup?
In late January and early February 2022, Adams described himself as "the Biden of Brooklyn." "A budding bromance" was the characterization used by Brooklyn Magazine to describe the relationship between the mayor and the president. The two men partnered to combat gun violence and crime in the city.
Yet, Adams has faced the challenge of a continuing influx of immigrants and asylum-seekers coming to the Big Apple, more than 125,000 since April 2022, according to his office, without receiving commensurate federal assistance to manage the issue. In April 2023, Adams lobbed criticism at the Biden administration and the president himself, saying, "The president and the White House has failed New York City" on the immigration surge issue.
It was Adams's harshest critique of the administration at the time, as the city faced an overburdened shelter system trying to help more than 34,000 migrants. The mayor demanded federal assistance expenses housing the immigrants, claiming the city had already spent $2 billion feeding and housing the influx of migrants. He also insisted the president provide a path to work permits for the migrants to start earning money and caring for themselves to relieve the city of the burden.
Cold Shoulder and Cold Comfort
Despite administration promises to provide a White House liaison to discuss immigrant issues affecting New York City, Adams has received little response and no liaison. In May, Biden's reelection campaign dropped Adams from the president's National Advisory Board after initially naming him to the board in March.
Adams has pointed out that current projections estimate his city will spend $5 billion by the end of the fiscal year to feed and house over 57,000 migrants currently in care. The August estimate calculated a daily cost of $9.8 million.
Adams told the New York Post, "New York doesn't deserve this, the asylum seekers don't deserve this." He hoped that while Biden was in New York, he might reflect on how much the city has done and continues doing. Yet, his message was clear: The city can't do it all alone.
Unlike Adams, New York Governor Kathy Hochul (D) met with Biden and engaged in conversation about the migrant issues that New York City is coping with and measures that could ease the problem not just in New York but nationwide. She characterized her conversation with the president as productive.
~Here's to Our Liberty!
Copyright 2023, LibertySons.org