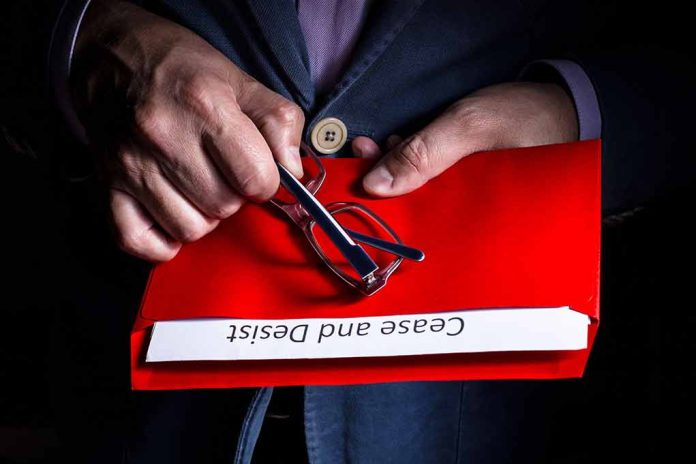 (LibertySons.org) – Republican presidential hopeful Vivek Ramaswamy, 38, told Iowa Governor Kim Reynold (R) that his favorite walk-off song was "Lose Yourself" by Eminem in an impromptu moment at the Iowa State Fair on August 12. Suddenly, the sound tech blasted the track across the loudspeakers, and Ramaswamy grabbed a mic and began performing the song about taking one's shot at the big time. Yet, 11 days later, Eminem demanded the candidate stop using his tunes on the campaign trail.
In a letter sent by Broadcast Music, Inc. (BMI), the agency said it had received communication from Marshall Mathers, III, who uses the stage name Eminem, objecting to Ramaswamy's campaign's use of his music and asking BMI to remove his works from the agency's catalog of music available for license by political entities or organizations. Consequently, BMI notified Ramaswmay's campaign attorney that Eminem's material was no longer available and the campaign could no longer use it without breaching its contract with BMI.
The campaign didn't object. On August 28, Tricia McLaughlin, a spokesperson for the candidate, joked, "we will have to leave the rapping to the real Slim Shady," referring to another nickname for Eminem.
According to The New York Times, Ramaswamy performed Libertarian-themed raps during his undergraduate years at Harvard using the performance name "Da Vek." Yet, he readily admitted he and his favorite artist didn't share the same circumstances growing up.
The pharma biotech mogul grew up as the son of a mom who practiced medicine and a dad who worked as an engineer in an affluent home. However, he said he understood the concept of other people having low expectations about his abilities and having to prove himself.
Eminem didn't publicly make any comments about Ramaswamy or his campaign. However, others have noted that the candidate has closely aligned himself with former President Donald Trump and his policies. In 2017, Eminem had much to say about Trump and his policies, including calling him "a kamikaze" likely to "cause a nuclear holocaust" in a freestyle rap. He also told his fans they'd need to choose between him or Trump in the song because he viewed their viewpoints as such opposites.
~Here's to Our Liberty!
Copyright 2023, LibertySons.org