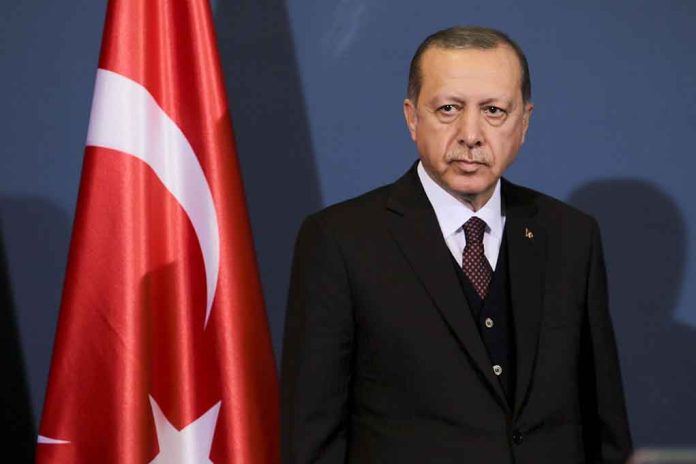 (LibertySons.org) – The United States has seen close polling outcomes during the last two election cycles, leaving the nation polarized in many ways. It turns out that the US isn't alone. One NATO ally just held elections on Sunday, May 15, but was unable to declare a winner because no candidate garnered at least 50% of the vote. Now, the country has announced a historic first runoff election on May 28 to determine who will rule.
Despite holding power in Turkey for the last 20 years as prime minister or president, Recep Tayyip Erdoğan only captured 49.5% of the vote in his quest for reelection as president. Kemal Kılıçdaroğlu, the opposition leader and Erdoğan's primary opponent, captured 44.8%. Sinan Oğan, leading the ATA alliance, a conservative nationalist party, took 5.3% of the vote.
Putin ally dealt blow as election goes to runoff https://t.co/DLOdp5gPov

— Newsweek (@Newsweek) May 15, 2023
It's the closest political race Erdoğan has faced since his rise to power. Several factors may have contributed to the election's outcome. Western critics have lamented the Turkish president's close relationship with Russian President Vladimir Putin, especially after he decided to invade Ukraine. The Turkish strongman has played a pivotal role in negotiations between Russia and Ukraine, notably regarding food shipments through the Black Sea to ease hunger in Africa and the middle east. On balance, Erdoğan has maintained warmer relations with Putin and Russia than with the US.
Erdoğan's administration also came under fire for its slow emergency and relief response after a 7.8 magnitude earthquake struck the south-central portion of the country on February 6. Additionally, the Turkish leader has come under scrutiny for his human rights record and media censorship.
The election results surprised some observers because Kılıçdaroğlu led the pre-election polls. Yet, despite complaints about the government's emergency response, Erdoğan made a strong showing in 10 of the 11 provinces affected by the disaster, defeating his opponents.
Heading into the runoff, most analysts favor Erdoğan to win again. Kılıçdaroğlu would have to give up his Kurdish supporters if he hoped to gain an endorsement from Oğan, but the opposition leader can't hope to win without the pro-Kurdish elements.
~Here's to Our Liberty!
Copyright 2023, LibertySons.org