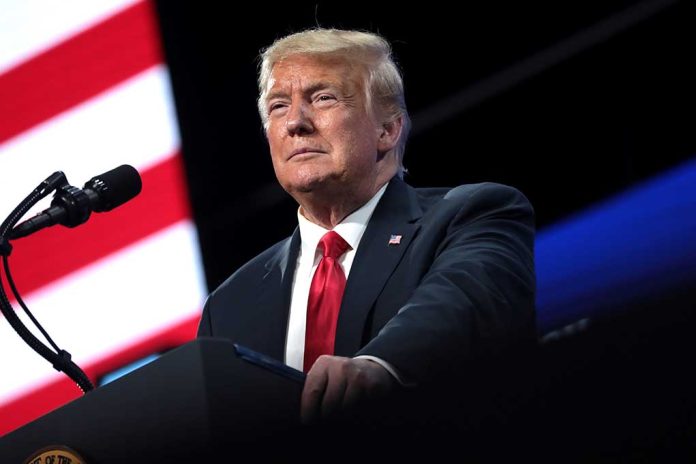 (LibertySons.org) – Former President Donald Trump can't seem to catch a break regarding his taxes. Not only has Congress been fighting for years to get his tax documents, but he's also facing a tax fight in Illinois.
The Cook County Board of Review found a recent tax assessment of the Trump International Hotel and Tower in Chicago, Illinois, was incorrect. As a result, the board ruled in a 5-0 vote to issue a $1.3 million refund to the former president due to overpayment.
Many officials began voicing concerns the refund would cause financial harm to those entities that typically get the money from property taxes, such as schools. There is also a history of issues and arguing over whether the assessment was incorrect.
The case is currently in appeals, but it isn't the only tax issue facing Trump. He is also still dealing with a request from Congress to turn over his tax filings.
NEW: Trump faces legal hurdles in keeping tax returns private https://t.co/JFKSKt1hOn B pic.twitter.com/c1fAghX2Xf

— The Hill (@thehill) August 11, 2021
Congress first asked to see his records in 2019, but the Trump Administration ordered the Treasury Department not to turn them over. In July 2021, the Biden Administration told the Treasury to release the documents, and the Justice Department issued a statement supporting that directive.
Trump's lawyers filed a lawsuit to block access to his records, claiming Congress lacks a legitimate reason for the request. According to them, the request is a purely political move. A federal judge set a November hearing date on August 9.
In previous cases, the courts sided with Trump due to immunity granted to sitting presidents. However, now that he is a private citizen, that claim no longer holds merit, and the court could rule against him.
~Here's to Our Liberty!
Copyright 2021, LibertySons.org