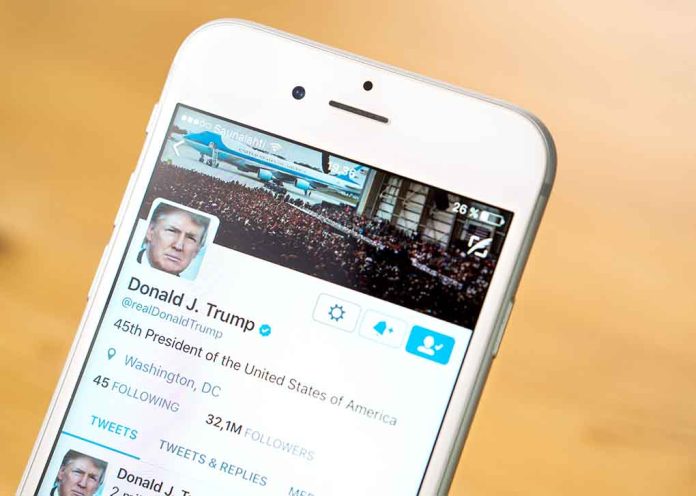 Donald Trump Suspended – They're Removing Him!
(LibertySons.org) – Former President Donald Trump's relationship with Twitter is rocky. The platform banned his account after the January 6 events at the Capitol in Washington, DC. Afterward, he started his own social media network, TRUTH Social, but there was also an account on Twitter, @PresTrumpTS, that shared his new platform posts. Recently, Twitter suspended that account too, at the same time former Trump spokeswoman Liz Harrington announced she would no longer be on Twitter.
I will soon no longer be posting on Twitter. This is a terrible website that is beyond fixing.

TRUTH will soon be available to everyone when its web application launches.

Be sure to follow me there @realLizUSA 🇺🇸 pic.twitter.com/snZ79Ym3Rv

— Liz Harrington (@realLizUSA) May 17, 2022
Newsweek reported the alternate Twitter profile for Trump went offline on May 17. It's unknown who started the account in April or who ran it thereafter.
The platform suspended Trump's original account over claims he incited the violence that occurred on January 6 with his tweets. The @PresTrumpTS account ban was likely due to the platform's rule forbidding the posting of content from a banned or suspended user.
With Elon Musk's potential takeover of Twitter and commitment to turning the social media website into a free-speech haven, many supporters thought Trump would return. But, after Harrington's quick departure, it appears his team is refocusing efforts exclusively on TRUTH Social. Newsweek reported the new platform saw a surge in downloads at the end of April, the highest it had encountered since its February launch.
~Here's to Our Liberty!
Copyright 2022, LibertySons.org