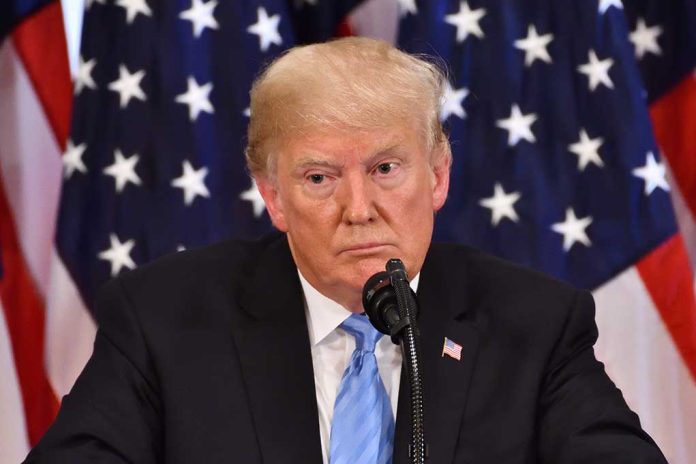 (LibertySons.org) – The effects of the January 6, 2021 events at the US Capitol continue to reverberate throughout the United States. So far, more questions remain about the incident than answers.
Former President Donald Trump held a press conference on July 7 to announce that he filed a lawsuit against big tech giants Facebook, Twitter, and Google. The topic of the January 6 incident arose while he took questions from reporters. Trump said the incident was regrettable and turned his attention to Ashli Babbitt; the US veteran shot and killed by a police officer that fateful day.
Trump suggested there was "no reason" for a police officer to fire on her and called for further investigation into the incident. Investigators completed the first inquiry in April. According to them, the shooting was justified because Babbitt presented a clear danger to members of Congress at the time of her death.
"The Person Who Shot Ashli Babbitt – BOOM! Right Through the Head" – President Trump Brings up Gunned Down Veteran Ashli Babbitt at Tech Presser https://t.co/OP0Jh7vl2r via @gatewaypundit

— Thomas Clark (@nomad2003) July 8, 2021
Continuing his remarks, Trump pointed out the flagrant disparity between the handling of individuals arrested for their alleged role in the January 6 incident to Babbitt's shooter and Antifa rioters who have terrorized American cities for months.
As Trump pointed out, Antifa activists and Babbitt's killer got a pass from law enforcement and prosecutors while numerous individuals allegedly involved in the Capitol Hill incident were still behind bars months after their arrests.
There's a lot of talk out of Washington these days regarding the idea that justice is equal in America no matter who a person may be. So why, then, is there such an obvious difference between the severe treatment of January 6 suspects and Antifa rioters?
~Here's to Our Liberty!
Copyright 2021, LibertySons.org