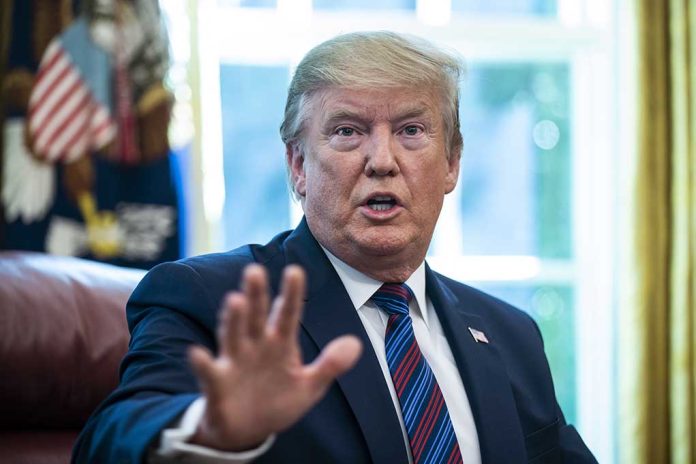 (LibertySons.org) – Silicon Valley Bank's (SVB) collapse last Friday has caused concern in the financial industry, with many experts debating the causes behind the bank's failure. Former President Donald Trump and Treasury Secretary Janet Yellen have weighed in on the recent collapse of SVB. The former commander-in-chief warned of a looming economic disaster as Yellen is seeking to calm concerns about the broader banking system.
SVB, which specialized in serving startup businesses and was once the 16th largest bank in the country, collapsed on Friday after a run on deposits. Its collapse represented the nation's second-largest in history.
Trump took to his social media platform, Truth Social, to blame the bank's collapse on his successor, President Joe Biden, and his economic policies. The former president claimed that banks were already beginning to collapse and warned of a coming "Great Depression far bigger and more powerful than that of 1929."
President Trump talks about the challenged American economy under President Joe Biden.

Trump's statement that "the banks are already starting to collapse" is in reference to the recently-failed Silicon Valley Bank.

— Vince Manfeld (@AureliusStoic1) March 12, 2023
Meanwhile, Treasury Secretary Yellen sought to reassure the public that the banking system is stable. During an interview with Margeret Brennan on CBS' "Face the Nation," Yellen assured the public that the government is "certainly working to address the situation in a timely way."
Nevertheless, New York-based Signature Bank (SB) collapsed, and First Republic Bank's shares dropped 60% as of Monday. President Biden insisted the nation's banking system is safe during a speech at Georgetown University. He also vowed to hold the banking executives responsible for the failures responsible.
Others have blamed a 2018 law passed by Trump that lowered restrictions for mid-level and regional banks like SVB, even though the reason for SVB's failure is still being investigated. The measure increased the previous cap of $50 billion in assets to $250 billion, allowing banks to operate without being subject to Federal Reserve regulation.
Regardless of the cause, the collapse of SVB and SB has sparked concerns about the stability of smaller regional banks and the broader banking system. The situation is likely to lead to a public debate over banking regulations and calls for action from policymakers.
~Here's to Our Liberty!
Copyright 2023, LibertySons.org