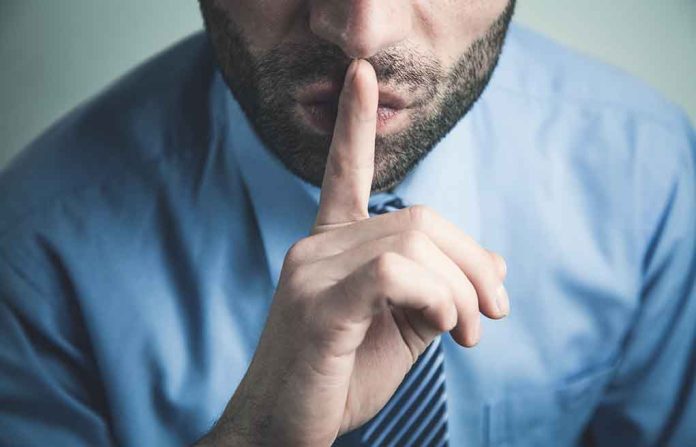 (LibertySons.org) – Conservatives have complained for years that media companies were throttling their voices — sometimes at the request of their liberal counterparts. However, a recent report sheds light on a situation involving former President Donald Trump's effort to silence late-night host and comedian Jimmy Kimmel.
On February 26, Rolling Stone reported that the former president allegedly instructed his White House aides to phone Disney, the owner of CBS Broadcasting, Inc., and request that company heads silence the comedian. Two former administration officials with knowledge of the situation claimed that Kimmel's jokes aimed at Trump reportedly angered the commander-in-chief. According to the insiders, the White House placed at least two phone calls to Disney near the end of Trump's first year in office.
The president reportedly said that Kimmel had been acting dishonestly and in ways that would've previously prompted him to file a lawsuit was he not the president at the time. Despite Trump's best attempts, the pressure campaign eventually failed, and ABC never took any action against Kimmel. Additionally, the late-night host continued to criticize the commander-in-chief.
Trump was so incensed by Jimmy Kimmel making fun of him that he had his White House staff take action https://t.co/73RkMIAYJa

— Rolling Stone (@RollingStone) February 26, 2023
Throughout his administration, Trump also made threats against other late-night television programs and celebrities he claimed mocked or otherwise insulted him. For instance, in 2019, Twitter received a request from the White House to take down a derogatory tweet from Chrissy Teigen aimed at the president.
Similarly, in 2018, Ajit Pai, the Federal Communications Commission (FCC) chairman under President Trump, announced that the organization would look into a reportedly crude joke from Stephen Colbert, another late-night host, regarding the commander-in-chief's close relationship with Vladimir Putin. Despite Trump's pressure, the FCC decided not to take any action against the late-night star.
Then, in 2021, a rerun of Saturday Night Live angered Trump once again. The president instructed his aides and attorneys to investigate whether the FCC and the Justice Department could take legal action against late-night shows that were critical of him. However, Trump's request and efforts once again failed, and nothing ever came about it.
~Here's to Our Liberty!
Copyright 2023, LibertySons.org