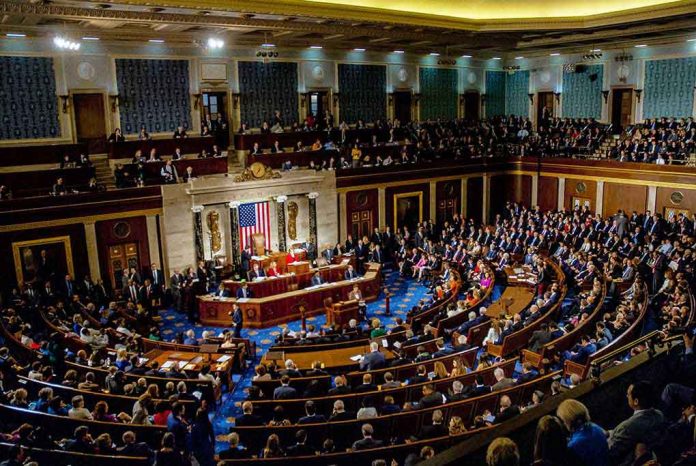 Democrats Pass It – They Voted Unanimously!
(LibertySons.org) – On May 18, the US House of Representatives passed the Domestic Terrorism Prevention Act. Aimed at increasing resources to fight domestic terrorist threats, the bill came on the heels of a deadly mass shooting at a grocery store in Buffalo, New York. The legislation passed along party lines, with only Representative Adam Kinzinger (R-IL) crossing the aisle to lend support.
House passes domestic terrorism bill in response to Buffalo shooting https://t.co/0RmPeuW490 via @Yahoo So why didnt the include BLM and Antifa in this bill they are all domestic terrorist

— Adrian (@Adriandnsouth) May 19, 2022
Newsweek reported that the easy passage through the House would not likely occur in the Senate. Supporters claim this bill helps to coordinate federal law enforcement efforts to allow them to better combat domestic terrorism. It introduces a requirement to open new offices tasked with focusing on extremists and white supremacy.
Republicans highly oppose the surveillance measures within the Justice Department that this legislation supports. GOP lawmakers also feel the bill is one-sided, without any mention of far-Left groups and a focus only on far-Right organizations and individuals. Representative Darrell Issa (R-CA) stated the legislation is clearly targeting only white, Right-leaning threats and ignoring radical Left operators.
With a 50/50 split in the Senate, Democrats must get every member on their side to use Vice President Kamala Harris' tie-breaking vote to pass this bill. But several Democrats have shown they won't always follow the crowd, so they may fail to move this proposed measure through the Upper Chamber of Congress.
~Here's to Our Liberty!
Copyright 2022, LibertySons.org