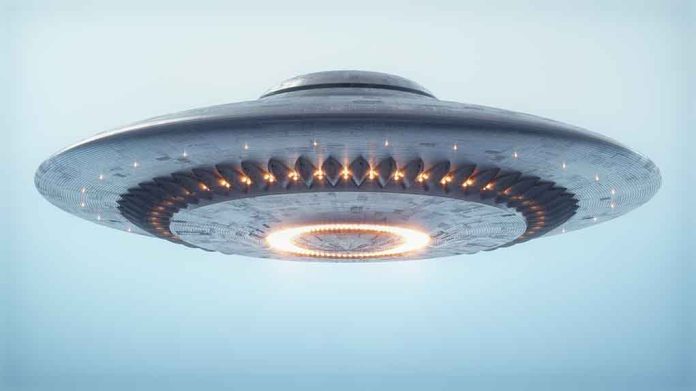 (LibertySons.org) – The Department of Defense (DOD) first announced its new Airborne Object Identification and Management Synchronization Group (AOIMSG) on November 23. It seeks to study the potential presence of aliens as well as the many more mundane UFOs reported to authorities by military members and civilians each year. The Pentagon now has to defend its existence from critics who question its initiatives.
The DOD says those criticizing the AOIMSG do not understand its purpose. Spokeswoman Sue Gough apparently indicated that the group would protect classified information while aiming to keep Congress and the public informed. She promised the department would also maintain accountability, looking forward to working with the legislative branch in 2022.
The Pentagon is pushing back on a series of criticisms by senior U.S. officials and analysts globally about a new office it stood up to study UFO sightings. https://t.co/0AANxKGgAO

— U.S. News & World Report (@usnews) December 7, 2021
Senator Kristen Gillibrand (D-NY) worries that AOIMSG's mission doesn't go far enough. In fact, she feels the need for even more oversight, especially concerning UFOs linked to Russia, China, or another US security threat. Gillibrand sponsored an amendment to the military budget to cover these issues and create an advisory committee for findings.
Researchers fear the AOIMSG will stifle civilian efforts to study UFOs. Mutual UFO Network member and researcher Peter Whitley feels the group will create less transparency, which will ultimately end up granting it too much control.
Chairman for the Archives for the Unexplained, Clas Svahn, feels UFO study belongs to science rather than the military. He accuses the DOD of pushing civilians out of the research arena. But Svahn also says transparency promises from the military mean nothing; they often hide information under the guise of classification.
~Here's to Our Liberty!
Copyright 2021, LibertySons.org