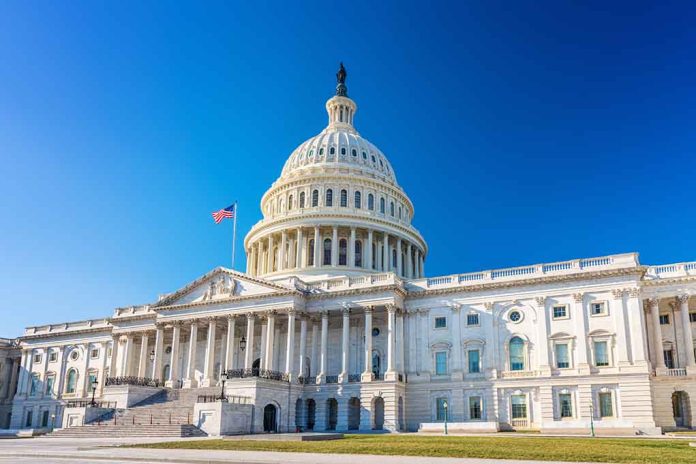 Capitol Security Crisis – Democrats Reportedly Behind It!
(LibertySons.org) – Representative Jim Banks (R-IN) recently revealed he is creating a report about security measures at the Capitol on January 6, 2021. The move is the Republican answer to the January 6 Committee, which he says isn't focusing on the security failures that day. In fact, he said they are blatantly ignoring the issue. Banks explained that while his report doesn't have committee resources, it will still present a comprehensive review of the events.
Rep. Banks says Jan. 6 Committee ignoring #physicalsecurity of Capitol, plans report focusing on that issue (@FoxNews) https://t.co/IKl0TwAfwU #videosurveillance pic.twitter.com/w0onBzH73M

— Dean Nicolls (@Dean_Nicolls) June 8, 2022
Banks conducted interviews with numerous people involved in Capitol security as well as whistleblowers. He's been able to gather information linking problems to breakdowns occurring with procedures, personnel, communication, and policies in the days before and on January 6. The representative also noted the House committee hasn't looked into these issues, but didn't give a reason why they were ignoring such an obvious failure.
The legislator intends to provide House Minority Leader Kevin McCarthy (R-CA) with the information should Republicans take the majority in the House and appoint the California lawmaker as speaker. He said with the GOP leading the Lower Chamber, he and fellow party members would take Capitol security way more seriously than House Speaker Nancy Pelosi (D-CA) has during her reign.
The representative is gathering information with the help of other Republicans who were supposed to be on the January 6 committee as McCarthy's nominees. Those members include Representatives Jim Jordan (OH), Troy Nehls (TX), Kelly Armstrong (ND), and Rodney Davis (IL). The minority leader is also participating in the investigation.
~Here's to Our Liberty!
Copyright 2022, LibertySons.org