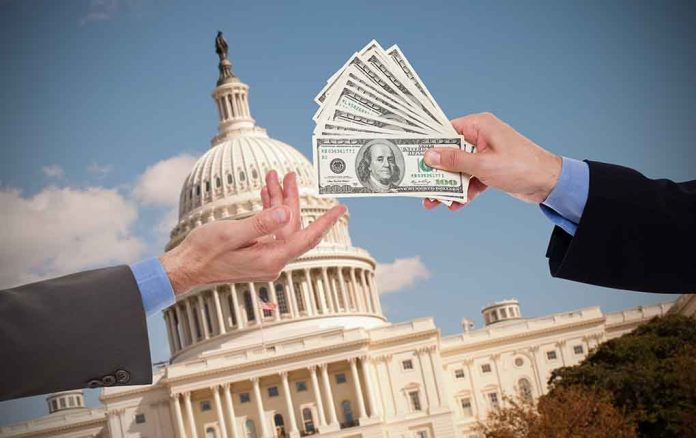 (LibertySons.org) – The 2024 primaries are nearly a year in the future, but things are already starting to heat up in Arizona. Senator Kyrsten Sinema (I-AZ) became the first woman elected to the US Senate from the state in 2018 when she defeated Republican nominee Martha McSally.
In December 2022, Sinema sent shockwaves throughout Washington's political circles when she switched her party affiliation to the Independent. She sat down for an in-depth interview with POLITICO at the time and confirmed that she wouldn't caucus with Republicans. She also claimed "nothing will change" about her "values" or "behavior."
Nevertheless, Sinema's defection from the Democratic Party opened the door to a three-way race in 2024, one that both Democrats and Republicans hope to exploit. Her Democratic rival launched his campaign against her by showcasing his hypocrisy regarding wealthy donors.
Democratic Candidate Accuses Sinema of Betraying Arizona Residents
On January 23, Rep. Ruben Gallego (D-AZ) announced his decision to run against Sinema for her Senate seat in the 2024 general elections. A populist critic of Wall Street and other big-money interests, his campaign's website accuses the incumbent senator of betraying the people of Arizona by putting her interests above those of her constituents.
Continuing, Gallego's site slammed Sinema for selling out to "wealth and well-connected" interests. According to his campaign, she returned the favor by blocking legislation regarding critical issues like minimum wage, the cost of prescription medication, and voting rights. The Democratic hopeful also promised to fight "to build an economy" for working-class Americans, "not just the wealthy and well-connected.
Rep. Gallego Takes the Battle to His Twitter Page
Gallego took his message to his Twitter account, posting several tweets smearing Sinema for receiving donations from moneyed interests. For instance, on April 15, he attacked her for receiving $287,000 from employees of Blackstone, the world's largest alternative asset firm, and $196,000 from the Carlyle Group, Inc., a multinational private equity firm.
Kyrsten Sinema raised $287,000 from employees of the investment firm Blackstone and $196,000 from private equity firm the Carlyle Group.

Our top donor occupation was a school teacher.https://t.co/N0zo4e9K8C

— Ruben Gallego (@RubenGallego) April 15, 2023
A few days later, he posted a statement accusing Sinema of being a "corporate sellout." He also claimed she cared more about "protecting Wall Street" than working for "everyday Arizonans." (He also solicited a $10 donation.)
Kyrsten Sinema is nothing more than a corporate sellout, more interested in protecting Wall Street than working on behalf of everyday Arizonans.

Rush $10 to help us defeat Kyrsten Sinema. https://t.co/LiXXtpNh4J

— Ruben Gallego (@RubenGallego) April 20, 2023
Conservative Website Reveals Gallego Received Thousands in Corporate Donations
On April 19, the Daily Caller posted a stunning exposé revealing the results of its review of the Gallego campaign's Federal Election Commission (FEC) mandatory filings. According to its review, the Democratic hopeful raked in over $106,000 from Wall Street employees.
For instance, he accepted the maximum donation of $6,600 from a consultant with McKinsey and Company, a global management firm providing services to corporations and governments. Likewise, he received the max from several institutional investors, a public relations executive, a lobbyist, two "big law attorneys," and a Big Tech worker.
In a stunning display of hypocrisy, the Daily Caller determined that Gallego received most of his donations from attorneys, despite his recent claim that school teachers made up most of his donors.
~Here's to Our Liberty!
Copyright 2023, LibertySons.org