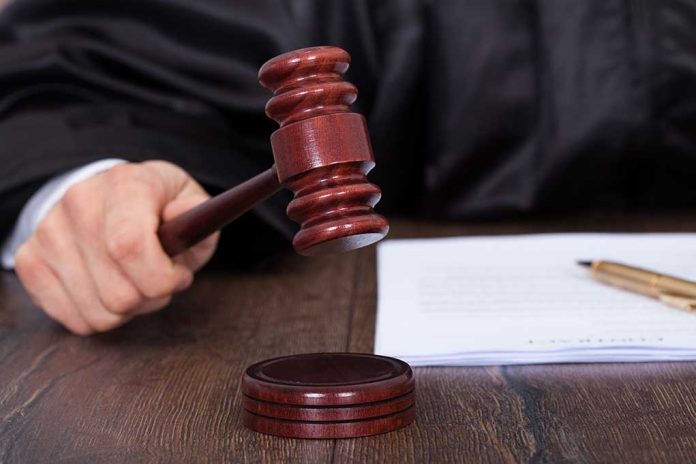 (LibertySons.org) – Former Biden administration official Samuel Brinton faced jail time for allegedly stealing thousands of dollars worth of luggage. However, the former Democratic official, who uses they/their pronouns, escaped time behind bars after they recently took a plea deal.
Security footage from Harry Reid International Airport in Las Vegas, Nevada, shows
Brinton picked up a woman's suitcase from the baggage claim area in July 2022. The ex-Biden official wore an easily identifiable white t-shirt with a rainbow atomic symbol in the clip, which they later wore in an Instagram post.
Brinton pleaded no contest to the charges related to that incident, and the judge handed down a suspended 180-day sentence and ordered them to pay $3,670.74 to compensate the woman for her stolen luggage and its contents. Additionally, the court reduced the charges down from a felony to a misdemeanor under the plea bargain agreed to between Brinton and the prosecutors.
Ex-Biden official Sam Brinton accepts plea deal in Las Vegas luggage theft https://t.co/hSVzDmQlwT pic.twitter.com/48GxqPvb2k

— New York Post (@nypost) April 14, 2023
The nonbinary 35-year-old was once a deputy assistant secretary under the Department of Energy. However, Brinton has since lost his position and no longer works for the Biden administration.
The Democrat isn't off the hook quite yet, as they still face felony charges for a separate incident in which they stole another bag after flying from Minnesota to DC. Brinton claims they took the suitcase by mistake. Yet, video evidence shows the former nuclear official appearing to intentionally grab the bag and remove the owner's tag before leaving the airport.
They claim they would return the bag and its contents, valued at $2,325, to its rightful owner. Asya Khamsin, a fashion designer from Houston, told the New York Post she believes the former Biden official may be involved in another case involving stolen luggage, which would be their third incident.
Khamsin claimed she observed Brinton wearing custom-made articles of clothing that she had stored in her bags. The designer had traveled to DC in 2018 for a fashion show but had to cancel after her luggage turned up missing. Her missing baggage was never found.
~Here's to Our Liberty!
Copyright 2023, LibertySons.org