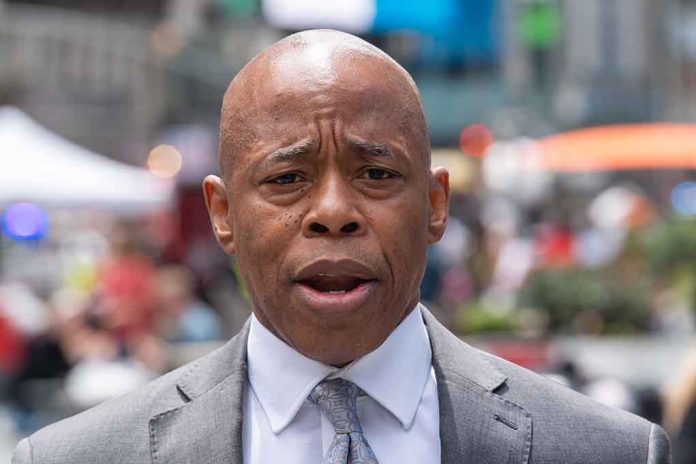 Armed GUNMAN – Top Democrat's Staff Becomes A Target!
(LibertySons.org) – New York City Mayor Eric Adams (D) promised to be tough on crime when he took office. Unfortunately, his aide is the latest victim of violence in the city. Christopher Baugh was scouting a location for an upcoming appearance when two men, at least one of whom was armed, attacked the aide, stealing his credit cards and city cell phone. The shaken man had to walk a block to find help and contact 911.
An Aide to NYC Mayor Eric Adams was Robbed at Gunpoint in Brooklyn via @nationalfile https://t.co/lZ6GE9923G

— sharon sizelove (@sharonsizelove) July 6, 2022
Baugh was at the intersection of Navy and York Streets around 10:30 a.m. when the mugging occurred. The aide tried to resist, telling the men he worked for the mayor, but the robbers didn't seem phased. They knocked him to the ground before stealing his valuables.
Democratic political consultant Hank Sheinkopf said this type of bold crime against someone with connections in the mayor's office, especially in broad daylight, shows just how out of control crime has become in the city. He said if criminals are willing to attack someone like Baugh, the average citizen should be wary. Residents are having a hard time feeling secure on the city streets.
Authorities said both suspects are black males. One was riding a Citi Bike and wearing a blue and white sweatshirt. The other man was in "sunglasses and a blue mask."
The mayor's press secretary Fabien Levy stated Baugh should be able to do his work without fear of an assault, and the mayor continues to focus on ridding the streets of crime. He is working to reduce violence and take more guns out of the hands of criminals. Levy explained the attack on Baugh is proof that the mayor's crime-fighting agenda requires quick action and determined focus.
~Here's to Our Liberty!
Copyright 2022, LibertySons.org