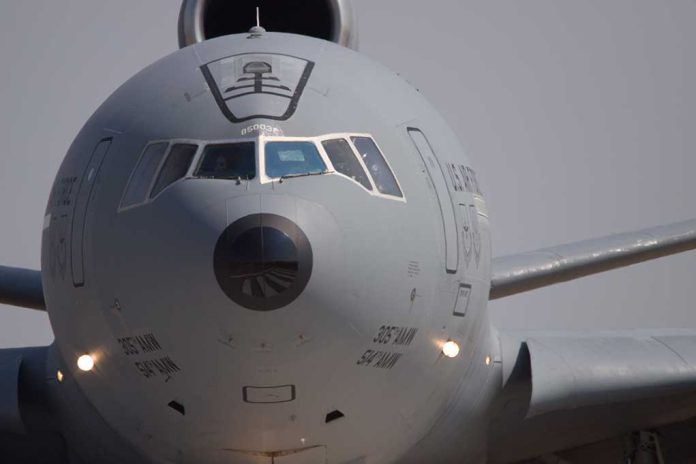 (LibertySons.org) – American troops had occupied Afghanistan for almost 20 years before President Joe Biden's order for a complete withdrawal by September 11, 2021. US officials scrambled to assess the situation on the ground in Afghanistan as the country quickly plunged into chaos.
A wave of fear coupled with desperation has taken over the Afghan population in the wake of the US evacuation and Taliban efforts to control the country.
Violence Breaks Out at Kabul's International Airport
Unsurprisingly, mass panic has dominated the situation at Kabul's Hamid Karzai International Airport. Video footage obtained by western media outlets showed people attempting to flee the chaotic scene by clinging to the fuselages of US military aircraft as pilots prepared for liftoff. At least three individuals reportedly lost their lives as a result of those efforts.
Meanwhile, armed Taliban members roamed the airport with US personnel killing at least two of them. Witnesses reported seeing multiple bodies located inside and around the terminal.
US military personnel are working to maintain security at the airport and assist with evacuations. Reports say they tried to restore order by shooting into the air, dispersing smoke bombs, and flying helicopters low over the crowds.
Pentagon spokesperson John Kirby told reporters the US would send an additional 1,000 US troops to secure Hamid Karzai airport, reinforcing the 2,500 soldiers already stationed there.
Afghans Face an Uncertain Future
Uncertainty regarding the future has overtaken the Afghan people as the US works to complete the evacuation of US nationals. Additionally, translators who worked with US forces and their family members face possible Taliban retaliation. The Biden administration appears to be dragging its feet deciding how to get everyone out of the country. To complicate matters more, the Biden administration must decide where to house Afghan refugees while they await the processing of their visas.
Journalists also face a potentially bleak future with Afghanistan falling to the Taliban, as do women. Likewise, children who never knew an Afghanistan under Taliban control will have to adapt to unfamiliar situations.
The White House Reaction
President Joe Biden was at Camp David when the takeover occurred. Still, he returned to the White House on August 16, where he held a televised briefing to update the American public on the situation in Afghanistan and his administration's plans moving forward.
Biden said he stood by his decision to withdraw troops and blamed the current situation on the Afghanistan government. He said the leaders "gave up and fled the country." He also blamed the Afghan allies for not wanting to leave earlier and said the takeover happened much more quickly than expected.
As one might expect, he also blamed the Trump administration, claiming he inherited the situation.
Biden has authorized an additional 6,000 troops to help evacuate remaining US citizens and allies trapped in Afghanistan. So much for an orderly withdrawal of US forces.
~Here's to Our Liberty!
Copyright 2021, LibertySons.org