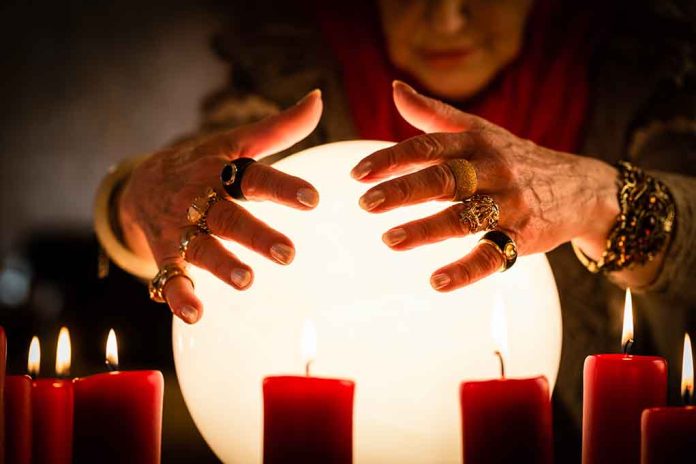 (LibertySons.org) – Baba Vanga, a blind psychic, may have died 25 years ago, but she made some predictions that worry people today. Her track record is remarkable when it comes to significant events. She said in a 1979 interview that in the future, Russia would dominate the world, which is a concern due to current events.
Vanga correctly predicted the 9/11 terrorist attacks in the United States, the spread of the COVID-19 virus, and the invasion of Ukraine. These spot-on prophecies only make her forecast that Russian Vladimir Putin will one day rule the world more terrifying. The psychic also said there would be a World War III that likely would involve nuclear weapons.
A blind psychic, Baba Vanga, predicted Russian President Vladimir Putin would become 'Lord of the World'https://t.co/LpFvYQjRs0

— WION (@WIONews) March 28, 2022
If anyone needs further proof, people credit Vanga for predicting other newsworthy events, including the death of Princess Diana and the 1986 Chernobyl disaster. Her claim to fame was in 2000 when she correctly prophesied the Kursk submarine disaster.
Her closest followers say she has an accuracy rate of about 85%. On the other hand, experts rank her closer to 68% accuracy. One place she missed was a prediction that said during Trump's presidency, the US would fall. She also believed aliens from outer space would attack the world some time in the future, and that hasn't happened – yet.
The rumor is Vanga, whose nickname was Nostradamus of the Balkans, gained this second sight when she lost her vision in a terrible accident. As a young girl in Macedonia, she was the victim of a tornado that left her blind. People say this event was when she became psychic.
~Here's to Our Liberty!
Copyright 2022, LibertySons.org