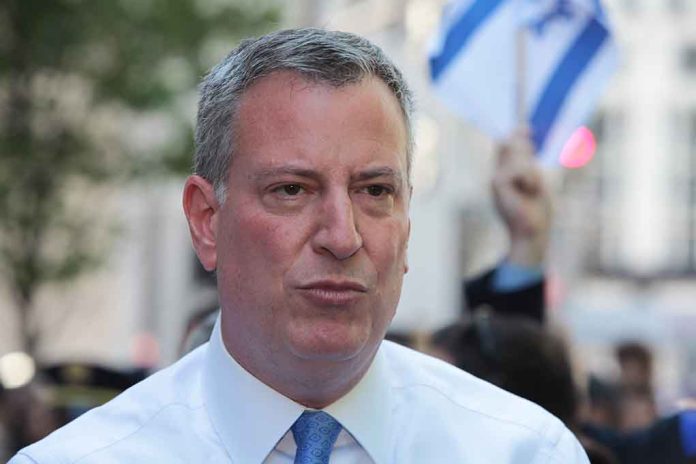 Top Democrat Drops Out – Another One Bites the Dust
(LibertySons.org) – On July 19, former New York City Mayor Bill de Blasio (D) announced on social media that he was ending his campaign for Congress after only two months. The politician recognized the voters wanted something different than he could offer. However, he vowed to find another way to serve the public.
It's clear the people of #NY10 are looking for another option and I respect that. Time for me to leave electoral politics and focus on other ways to serve. I am really grateful for all the people I met, the stories I heard and the many good souls who helped out. Thank you all! pic.twitter.com/gpt6V6WLUf

— Bill de Blasio (@BilldeBlasio) July 19, 2022
According to a poll from the Working Families Party, of the 82% of registered voters who responded, only 3% said they would vote for the former mayor. His number was far behind candidates Carlina Rivera and Yuh-line Niou, who tied in first with 16% each. The results came out just the day before de Blasio took himself out of the running.
The situation is reminiscent of the 2020 presidential race when he dropped out after national polls showed he wasn't doing well. During a September 20, 2019, appearance on MSNBC's Morning Joe, the former leader said he was ending his run for the White House because it wasn't his time. Again, he pledged to stay in public service and keep working for the people.
It's true: I'm ending my candidacy for president. But our fight on behalf of working people is far from over. https://t.co/wlqhNmcZLv

— Bill de Blasio (@BilldeBlasio) September 20, 2019
The former mayor has had trouble with polls for some time. His last years in office in NYC were rough, with crime rising rapidly while he claimed the Big Apple was the "safest big city" and homelessness sweeping the area while he seemingly turned a blind eye. In fact, according to an NY1/Ipsos poll from June 2021, a mere 37% of New Yorkers thought he was doing a good job at the time.
~Here's to Our Liberty!
Copyright 2022, LibertySons.org