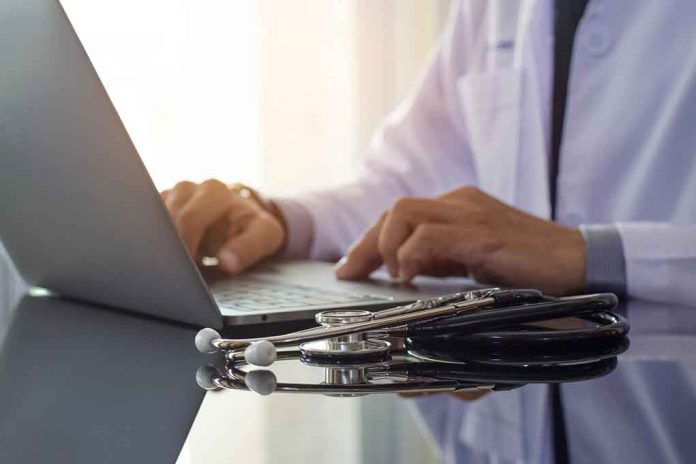 (LibertySons.org) – According to Breitbart, on March 31, Lauren Handy, director of activism for Progressive Anti-Abortion Uprising (PAAU), handed over the bodies of five aborted babies she had in her possession. The pro-life activist group said Handy was holding the fetuses as evidence of illegal late-term or live birth abortions.
When I asked anti-abortion activist Lauren Handy what homicide detectives pulled out of her house Wednesday, she only said, "people will freak out when they hear." @DCPoliceDept now says it found 5 fetuses. @wusa9 pic.twitter.com/9Uvm7JY9dQ

— Nathan Baca (@NathanBacaTV) March 31, 2022
PAAU claims, based on inspections of the fetuses, each had experienced injuries consistent with violations of the Partial Birth Abortion Act and Born Alive Infants Protection Act. Pro-Life organization Live Action said the remains came from the Washington Surgi-Clinic of Dr. Cesare Santangelo.
On March 31, Executive Assistant Chief of Police Ashan M. Benedict said investigators do not believe there was any criminal activity associated with the abortion of the fetuses. They will not pursue those allegations further. He explained the only criminal matter is how Handy got them into her home, which they will continue to investigate.
PAAU held a press conference on April 5 addressing the matter. The group claimed it received the fetuses from an employee at the medical waste company who was removing them from the clinic. The pro-life group said they recovered 115 aborted babies in total.
Pro-life friends, did you miss today's @PAAU press conference about the remains of the 5 aborted children that were confiscated by the Washington, DC police?

A link to the livestream is below!#ProLife #JusticeForTheFive https://t.co/eRRHOkI5f5

— Michael New (@Michael_J_New) April 5, 2022
Handy is currently facing federal charges for violations of the FACE Act and federal civil rights conspiracy. The Department of Justice alleges she was part of an invasion at a healthcare clinic. Her association with the fetuses found in her home remains under investigation by federal and local authorities.
~Here's to Our Liberty!
Copyright 2022, LibertySons.org