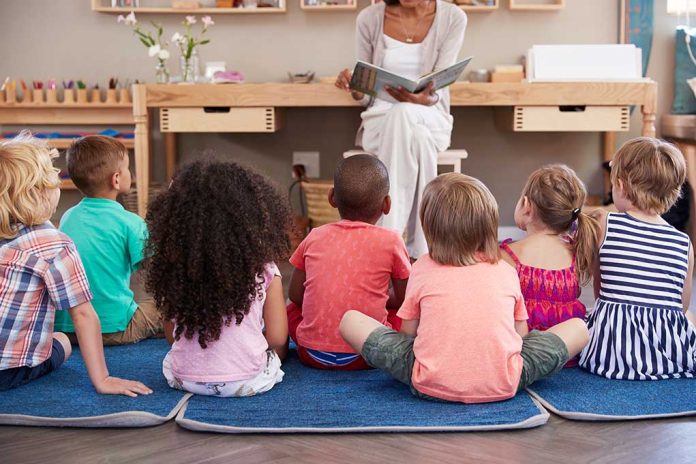 D.C. School Has Insane Request for 4 Year Olds
(LibertySons.org) – Janney Elementary School in Washington, DC, upset some parents when they learned through a letter from the principal that their children had been part of an "Anti-Racism Fight Club" lecture. The school didn't bother to tell parents until after the event occurred, giving them no choice in the situation. They also weren't too happy with some of the messaging, such as encouraging students to identify racists in their families.
A public school in DC gave children in pre-kindergarten through 3rd grade an "anti-racism" "fist book."

The book asked them to identity "racism in yourself" and "who in your family has racist beliefs."

Again, this book was given to 4-YEAR-OLDS!https://t.co/tjUeLSNcr6

— RNC Research (@RNCResearch) May 2, 2022
The school invited Doyin Richards to speak to children in pre-k through third grade about racism. Richard's "Anti-Racism Fight Club" program included a "fistbook" that, according to the New York Post, included information about how white people have special power in society and have an "invisible force field" surrounding and protecting them. The book speaks about white privilege and tells the children they are at fault if they ignore they have it.
The book also encourages the students to be aggressive and loud about racism. It leads children to look for racism in themselves and those around them while pointing out that people who don't want to focus on or talk about race are subtly racist. The school also sent parents a link to an adult fistbook talking about how white supremacy is everywhere and racism influences all areas of society.
Fox News reported parents from the school district posted their feelings on a forum called DC Urban Moms and Dads. One parent talked about how the presentation scared his or her child so much that the student couldn't even talk about what they had learned.
~Here's to Our Liberty!
Copyright 2022, LibertySons.org