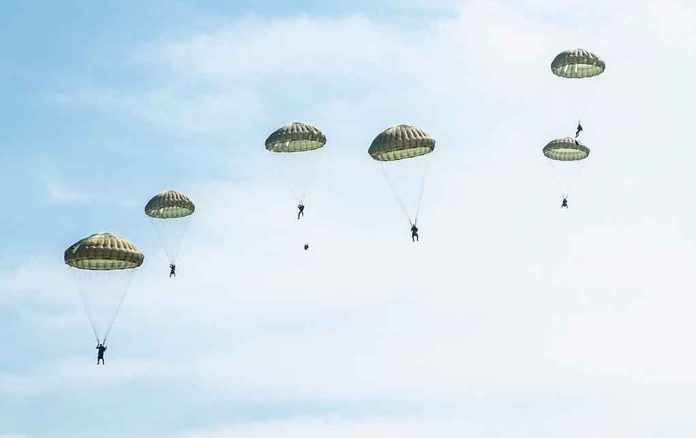 (LibertySons.org) – During the evening on April 20, police officers removed people in buildings around the Capitol. They reacted to an evacuation order due to strange paratroopers heading toward the area. Luckily, it was not a threat but rather a stunt for a local sporting event, leaving many to wonder about communication problems in the city.
Plane taking skydivers to Diamondbacks game in Washington briefly causes Capitol evacuation https://t.co/8ebkyOZu2w

— azcentral (@azcentral) April 21, 2022
The US Army Golden Knights were parachuting into the Washington Nationals baseball game, which is close to the Capitol buildings. Apparently, Capitol police were not aware of the plans because they sent out an alert to congressional staffers telling them there was an identified potential threat.
The police did quickly remedy the situation, posting an all-clear message on Twitter.
The Capitol was evacuated out of an abundance of caution this evening.

There is no threat at the Capitol.

More details to come. pic.twitter.com/7qqxqQyzlD

— U.S. Capitol Police (@CapitolPolice) April 20, 2022
The account stated they were still attempting to get further information in follow-up posts. It appeared they didn't really understand what had happened. It wasn't until the afternoon of April 21 that they issued a formal statement, which explained away the mistake because they have to "make split-second decisions."
However, officials probably should have known about the event before it happened. Shouldn't the police guarding the Capitol be aware of what is happening in the city on all fronts so that nothing surprises them? Is this yet another example of communication issues with security in DC?
~Here's to Our Liberty!
Copyright 2022, LibertySons.org